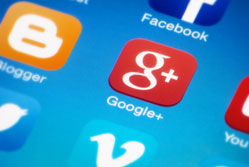 If you're still baffled by Google+ then worry not — you are not alone. Three years after it appeared, the network continues to create controversy and confusion. In fact, it's easy to get lost on Google+ and spend hours roaming the site with very little to show for it. But help is here. We have compiled this beginner's guide to help you get the most out of Google+.
Google Circles
Once you've added your account, Google+ allows you to follow people, much like Twitter, and categorise them into Circles. These could include friends, work, interests and so on. You can share specific content with certain circles. People will be notified once they have been added to your Circles to prompt them to follow you back.
Home Stream
This is the Google+ home screen showing photos, posts, videos and everything else your contacts may be posting. On the left hand side you will see a drop down of all the areas within the Google platform, such as Communities and Events. Down the right hand side are your hangouts (which we'll come to later). On the home stream you can +1 other people's content (much like a Facebook like) share items or comment. You can filter the posts on your home screen via your Circles using the bar at the top of the screen, making it much easier to find what specific contacts are saying.
Posting
Like Facebook, when you share an update on Google+ you can choose who you share it with — a specific group of people or everyone. You can also tag individual companies or people in your posts to bring a topic to their attention; they will then get a notification letting them know that they have been tagged in a post. With this in mind, a post shared with a specific group of people acts much like a private message and only allows those specific few to read your update.
Hangouts
This is one of the most popular features on the Google+ platform and is the main feature that makes it stand out from competitors. Hangouts is where you can video call your connections, either as a group chat or as a private conversation. Google positions it as a way to turn one-to-one or group conversations into live face-to-face video calls with up to ten people. Now, with the new Uberconference app you can dial into your Google Hangouts from your phone and host a call with up to 100 people, making conference calls a whole lot easier.
Communities
There is a community for nearly everything, and we've certainly stumbled across some of the weird and the wonderful groups. This allows you to join in conversations with people with similar interests — whether it's social media, travel, animals or fashion. All you need to do is request to join and you can create and join in the discussion.
Events
This works much like a Facebook event and allows a business or individual to raise awareness about an upcoming occasion. And the best part? Being Google, this is linked to your Google calendar so you never have to worry about forgetting an event. To create an event, click on the left sidebar and when you get on the events page, simply click on create Event to get organising. If this is a secret do, then you can choose who sees the event, allowing you to share it with a specific group of people.
Explore
The Explore button on the top toolbar is another excellent feature. This section allows you to see what subjects, topics and hashtags are currently trending on the site. It also suggests similar hashtags for your future posts, as well as any communities or posts that it thinks you may be interested in. In an attempt to rival Twitter, Google+ really has gone all out with hashtags.
So, this is a whistle stop tour of Google+ to get you off the ground but it's worth taking some time to explore the site further. You can also watch this great video from Chris Brogan about how Google+ can be used to really benefit your business.
© Emma Pauw. Emma is a social media writer at We Talk Social.