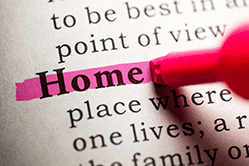 There's a small independent toy shop near my home that I often walk past. I am always really impressed by just how well the staff dress the windows each season or tie in with key events and dates. I particularly loved their recent Six Nations window.
This shop is rightly aware that their window is prime real estate for the business. Make a splash with a fresh display and heads will turn. Dress it once and only make minor changes once in a while and people will walk past without noticing.
Rugby may not be everyone's cup of tea but change will attract attention and create awareness. And one day, someone who noticed a Welsh flag one week will notice the push-along horse on display a few weeks later — and that would make a perfect gift for their nephew's birthday.
Your home page is prime online real estate
Now why am I banging on about shop window displays? It's because the home page of your website is your online shop window. And you can apply the shop window thinking to your own website.
Did you pat yourself on the back for a job well done and breathe a sigh of relief when your website first launched? How much work have you done on it since? Has the home page changed at all?
I meet so many small business owners who treat their websites as a one-off exercise and believe that an online presence is all that is required. Your website is like a living creature that needs to be constantly fed and cared for, if it is to do everything you want it to do. And that means regular updates — especially if yours is an ecommerce business.
What can you do to make your home page work harder?
Sit down and plan homepage content for the next six months.
Think of suitable promotions and content and then create a series of messages that you can feature on your home page.
Tap into key seasonal buying dates and events.
Come up with content related to big events — from Christmas to summer, from Valentine's Day to Mother's Day, not to mention big sporting events such as Wimbledon fortnight or the forthcoming Commonwealth Games. With a little imagination, you can link promotions to all sorts of dates.
Create eye-catching visuals and establish a consistent identity.
You don't have to be a design guru to do this — nor do you necessarily have to pay for the services of someone who is. Sites like PicMonkey are free to use and a great tool for creating imagery and graphics.
Don't forget to tie in your promotions with your social media activity.
This will help drive traffic to your website. Create versions of your home page graphics to a size suitable for social media and create synergy between all your marketing channels.
And remember, it's not just website visitors that love fresh, engaging content — so does Google.
Sarah Orchard is an expert contributor to Marketing Donut and a consultant at Orchard Marketing Associates.
contributor
Sarah Orchard has more than 15 years' top level marketing experience on leading UK and global service sector brands.