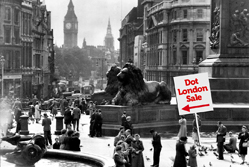 The arrival of the new dot London (.london) top level domain (TLD) name has created a shake-up but it has been slowly been stirring.
Its roots lie in the Internet Corporation for Assigned Names and Numbers (ICANN), which received around 2,000 new TLD applications in mid-2012 for domains like .LOL for funny videos or .app as a new home for mobile applications. In basic terms, it means dot com is no longer the all-powerful domain.
So will buying a London domain benefit your business? And more specifically, will a dot London address benefit your digital marketing efforts and online presence? There are a few key points to consider.
Is a new top level domain good for SEO?
Not necessarily. Matt Cutts, Google's Head of Webspam, said last year that a new TLD will have little technical effect on your website's SEO and ranking.
Cutts wrote on his Google+ feed: "Google will attempt to rank new TLDs appropriately, but I don't expect a new TLD to get any kind of initial preference over dot com, and I wouldn't bet on that happening in the long term either. If you want to register an entirely new TLD for other reasons, that's your choice, but you shouldn't register a TLD in the mistaken belief that you'll get some sort of boost in search engine rankings."
So in terms of SEO, you could probably achieve more by creating targeted landing pages on your website rather than paying for a whole new domain name.
Interestingly, Karren Brady, successful British businesswoman of The Apprentice fame and vice-chairman of West Ham United, is doing both. She recently announced that the football club's new whufc.london address will be a dedicated microsite specifically built to mark the team's move into its new home in east London's Olympic Park.
Focus on quality
Understandably, Matt Cutts is trying to discourage people from thinking they can just pay for a relevant TLD and have all their SEO woes solved. But it would be a tad illogical if Google algorithms completely ignored the top level domain. As long as it's relevant, a high-quality, well-written, innovative and indexed dot London domain should receive a good search ranking.
If having a dot London domain name bolsters your branding and builds trust, then clearly that is helping your digital marketing, SEO or no SEO. In a recent YouGov survey, 41% of companies said they felt that a dot London address would help people find them online. My gut tells me SEO didn't factor into that feeling.
London: an awfully big content marketing strategy
This brings us back to the fact that in this great, grand and gridlocked city, a cavalcade of big business leaders are urging other London companies to buy a London domain and join the family. They have a point - getting everyone to sign up to the same domain name effectively makes the whole city one big content marketing strategy.
So the question is: as a stakeholder in your company's digital marketing efforts, do you feel that having a dot London address serves a practical purpose or are you doing it purely for vanity's sake?
Let's be honest, the London 2012 Olympics could have benefited from a London TLD microsite for local discussions.
But before you sign up to a dot London domain - and join the likes of Deborah Meaden, who says 19 of her companies are getting on the London domain train - please address these very important content marketing questions:
Will having a London TLD align well with your business goals and overall marketing needs?
Will it speak directly to your potential customers or, like a microsite, open the doors to a new audience?
And will it bolster your website content by enhancing your branding?
If the answer is "no" to any of these questions then I'd suggest your content marketing budget might be better spent elsewhere.
Jonathan Bright is a writer at content marketing agency, Southerly.