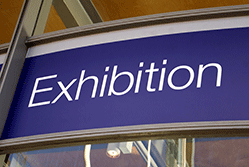 Exhibiting at an industry trade show can do wonders for your business — but it can also cost a lot. So how do you choose the right trade show?
1. Assess your objectives
The first step is to list all the reasons for wanting to exhibit. Be specific. "To increase sales" is too vague.
 How exactly will exhibiting help you to boost sales? Here are some common objectives for exhibitors: 
Launch a new product
Make new contacts
Learn about industry developments
Interact with your current customers
Test out a new product
Gather sales leads
 2. Compare the trade shows to your key objectives
 Next you can start to compare the USPs of each show with your business objectives to find the best matches.
 Look at each trade show and try to find out key information from previous years:
Size: both footfall and exhibition space.
Industry segment. Which area of the industry will the trade show target?
Number of exhibitors. How many attended previous events?
Competition. Are your competitors likely to attend? If so, how many and which ones?
Publicity. Where will the trade show be publicised online and in the media?
Respect. How is the trade show rated by customers and your industry peers?
With this information you should be able to score each potential trade show based on how well they meet your key objectives. This will be a bit of a balancing act between cost, likely outcomes and the resources you have available.
3. Balancing the budget
A fundamental question you need to answer is: Can we afford this trade show?
You should have a good idea of your budget, so the best way to get started is to create a list of all possible trade shows and their cost and cross off all those you cannot afford.
In order to meet defined objectives, it is important to make sure you have factored in appropriate costs for each exhibition including: 
Exhibition stand and build
Marketing materials
Staffing
Travel
You will also need to think about the costs of other activities like demonstrations, competitions, branding/graphics, advertising and so on.
Once you have factored all of these costs in for each opportunity, plus the ticket cost, you should have a list of affordable trade shows that match your objectives and target market. 
Richard Edwards is the director of exhibition and event specialist Quatreus.