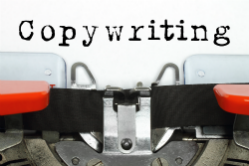 Most of us are pretty clear about the importance of design when brand building, but we are often less sure about which words to choose to bring our brands to life.
But every time you put pen to paper you either engage or disengage your customers. Words matter and brands that tell their stories as well as showing them win hands down. Successful brands like Apple and Volkswagen match the words to the visuals to create a strong voice.
Content marketing and social media
Twitter, instant messaging, texts, online chat — they're all proof of the power of words. How many times have we heard about people forming long distance relationships online, with only words at their disposal?
And think of how much information we find on the web before purchasing just about anything nowadays. Reviews, descriptions, listings and websites all contribute to our decisions to buy.
So how do you build a brand with words?
One way to establish the right tone of voice it to think of your brand as a person — what sort of conversations are they having?
Capture your audience's attention immediately — you have about three seconds for online content and not much longer for offline, so assess your content as if it's the first time you've seen it.
Don't overcomplicate your message — differentiate between things you find interesting and your genuine USPs that will convince customers to buy.
Focus on benefits not features. Features have their place but nobody was ever driven to buy a widget because it was only 1cm wide. They were driven to buy it because its slim width is a key advantage.
Edit, edit and edit. Revisit and edit again — get the picture? There will be times when your message is muffled by excess wordage. So lose the waffle. Less is more.
Finally, assess your writing capabilities honestly and if writing isn't your thing, get help. You can keep costs down by doing as much groundwork as possible, putting all the content together in one document. Most copywriters charge by the hour.
Sara Ruber is the director of creative agency Become.