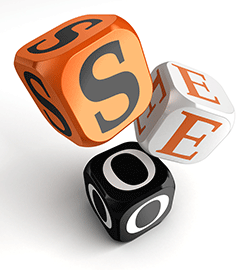 The world of search engine optimisation (SEO) has changed. Websites that tried to trick Google are now reaping what they have sown, with disastrous results. Instead of getting lots of traffic and making lots of sales, their SEO tactics have led to the exact opposite result. No traffic and no sales.
The sad thing is that the owners of these websites often had no idea what their SEO agency was up to. The owners were offered "No.1 ranking" in return for cash, and simply handed the money over.
Typically that cash was used to pay 'link farms', based abroad. These are the bad boys of the SEO world. Many of them use automated systems to 'scrape' content from respectable sites such as the Marketing Donut and upload it onto a series of new sites. They then sell links from these new sites, to boost the ranking of whichever web pages those links go to.
But Google algorithms are always getting smarter. And Google also has a small army of humans who search out and penalise such 'black hat' SEO practices. Well known websites such as Interflora and Halifax - and more recently the law firm Irwin Mitchell - have found themselves removed from the Google rankings. In 2013 Interflora only reappeared in the rankings once the company had already missed out on millions of pounds worth of flower sales over the crucial Mother's Day period.
Noisy Little Monkey has been brought in to sort out several such messes and in one case we found no fewer than three million spammy links in place - none of which the website owners knew about, as they had simply trusted the SEO agency to get on with improving the rankings.
Google eventually has to reinstate big brands such as Interflora, as so many people search specifically for the brand name and Google has to serve its users. But the same is not true of a small business. In some cases you cannot even re-use your old content on a completely new website, as Google treats it as the same website that was given the penalty previously. At this point businesses are better off jettisoning their website and starting afresh with a new URL and new content.
Follow the guidelines
All of which is irrelevant if you have always followed the guidelines that Google publishes. These guidelines can be summarised in two words: Don't cheat. If you do anything that is not 'natural', it is probably cheating. Paid-for advertorial that has a link back to your website is cheating, as that link would not be there unless you had paid for it. So if you want to do advertorials, make sure that any links in the content are 'no-follow' links.
And we can all recognise a spammy link when we see one. For example, those annoying website comments: Great post! Paul, Paul's Office Furniture> [with an optimised link to a page on Paul's furniture website]. Unless the comment and the link are contributing to the discussion, the purpose of such comments is as obvious to Google as it is to the rest of us. 'Low value' links like this will not help your website's rankings at all.
Proper SEO in has always been about optimising each page. The easy wins are the same as they have always been. Choose one or two key phrases that you want a page to rank for. Mark up the HTML carefully. Optimise the page title of each page. Make full use of high quality online directories such as Google+ Local, Yell and maybe your local chamber of commerce (ie those directories that people use to find things) and make sure that your contact details are identical, including even the spaces in your phone number - which ideally should have a local code and not an 0845 code.
Above all, you need to have high quality content, because that is what Google and the other search engines are all about. Put yourself in Google's shoes. If someone searches for 'Solicitor in Bristol', there may be 50 firms to choose from. Which one would you rank at the top? It would be the site that has traffic, that visitors spend time on, and that people link to and mention in blogs and in social media - all of which adds up to a winning digital footprint. It would not be a site that people arrive at and then quickly leave.
Finally, if you are using an SEO agency, make sure you know what they are doing. Google Webmaster Tools is free and is easy to use. If nothing else, just look in the messages section. Any really bad news from Google about your website will be in there.
Jon Payne is a delinquent from Bristol who founded Noisy Little Monkey, the digital marketing agency specialising in search and social.