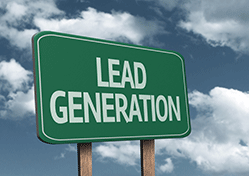 Lead generation is vital for any business. I have tracked with interest the evolution of marketing automation companies and lead tracking technology providers. Lead generation software gives marketers incredible power to scale marketing to thousands and to track, nurture and ultimately convert interested followers into paying customers.
But while technology is great, when it comes to start-ups and small firms, I am concerned that lead nurturing technology actually confuses rather than helps. You don't need a Ferrari to collect your groceries when you can walk around the corner to the supermarket or order them online.
Sales vs marketing
There is always the classic sales/marketing schism which runs like this: sales find that the leads they are provided with by marketing are no good, while marketing feel the leads were great but sales can't close them. Entrepreneurs don't have time for this.
I remember working with the ceo of a start-up who needed 12 trial customers within three months. I sat down with the sales director and asked how many leads they had in the pipeline. I also asked about the sales process. I then asked what key collateral was needed to help them close deals — case studies, fact sheets, press coverage, advocates. In this case, if marketing didn't support sales then after 12 weeks neither would exist.
Meeting revenue targets
I also worked for an enterprise workflow start-up vendor and the ceo asked me to draft the business plan to help secure funding. I was delighted, as I knew that the revenue targets would shape how many leads marketing had to generate which would, in turn, flow down to a series of tactics I could deliver.
It's not just about brand, share of voice, tone of message — it's about leads. Yes, you need to get the other metrics right. But my experience has told me that we must be united about leads. As Bruce Springsteen puts it, "If you don't stick together you won't stick around".
Once we have the leads, we need to work out which ones are really worth pursuing and which ones are time-wasters that will stall you. As entrepreneurs, we can't confuse interest with commitment.
Ultimately, we are after customers and once you have a lead you need to know what to do with it — play or pass. The other point to remember is that going for glory — and the time, effort and resources involved in chasing the one big name account — may not be worth as much as the lower hanging fruit, the deals that are easier to close and will generate cash more quickly.
Marc Duke is a marketing consultant.