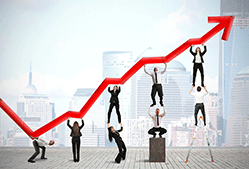 You may have a fabulous sales team but if you don't encourage the rest of your people to sell and support the sales process, you're missing a golden opportunity. It's not just your sales people who should be selling!
Marketing
A good marketing department should directly influence your sales. They should identify new and fruitful markets for you to approach, helping you to find and convert prospective clients. Marketing can also influence product development, helping you to devise pricing strategies and prepare all creative collateral.
Customer service
By listening to customer feedback, your customer service people are in a prime position to identify customer frustrations and turn negatives into positives. What's more, they can listen out for suggested improvements to products or services based on customer feedback. In addition to influencing sales, your customer services can encourage clients to return if they've had a positive customer experience.
Accounts
Indirectly, other departments in your company can also influence sales. Your accounts team can free up your salespeople's time by chasing up invoices and purchase orders for them. They can also provide salespeople with information on customer spending patterns as well as keeping costs under control so that prices can be competitive.
IT
You may initially think that your IT team can't boost sales, but key tasks in that department can play an important role in influencing them. Your IT people can Identify and invest in software to support your sales team, such as CRM. They'll also be responsible for providing the hardware to support the sales team and may be involved in providing reliable remote access so sales teams can work whilst on the road.
Delivery team
Any delivery department will be able to ensure the quality of your product as well as its availability. They can provide a positive experience when liaising with customers and, like the customer service department, they can listen out for suggested improvements. What's more, if your delivery team isn't delivering on the sales team's promises, then you won't be getting any repeat sales.
So, whilst your sales department may do a fabulous job, they shouldn't work in isolation. Make explicit the contributions made by other departments, so all your people can appreciate their involvement in the selling process. Selling is an activity that almost everyone can be involved in, and should be involved in.
In the words of Mark Cuban, American businessman and investor, "I still work hard to know my business … and I'm always selling. Always."
Heather Foley is a consultant at ETS, a UK-based HR technology specialist.