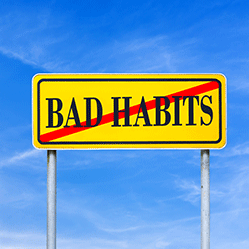 Unfortunately, when it comes to email marketing there are many bad habits and we've all seen them — both as marketers and consumers. Here are some of those bad habits that need to be addressed and — importantly — how to do it.
1. Poor targeting
As consumers we have all received badly targeted email, often for products we would never use. When they fill our inbox we view these organisations as a nuisance; even if we have previously used them, it could even deter us from future dealings.
Remedy: Use the information you hold on your existing clients to better target them and future new prospects.
2. Quantity above quality
When selecting or sourcing a distribution list for your email marketing, it is important to appreciate that sheer volume of data is not the key to a successful campaign. Sending to large volumes of email addresses not only suggests that your targeting is weak, but it can have a detrimental effect on the number of Inboxes you reach overall.
Remedy: Send your emails to a smaller, higher quality list to yield better results.
3. Inaccurate data
Buying inaccurate (often cheaper) data is a real issue in the industry and the reason some inexpert people say "never buy data lists".
Remedy: Use a reputable supplier whose data is relevant, up to date and accurate — they can also help you select and target the best prospects.
4. Single contact emails
People are often disappointed in the results of their first email campaign, but you shouldn't pass judgment too quickly — a single email can be only so effective.
Remedy: Your email campaign should be part of an ongoing series of communications, by both email and other media, to generate and nurture leads.
5. Broadcasts from unsuitable platforms
Most marketing professionals will use a platform suitable for email communications. However, we do still come across some organisations that try to use systems such as Outlook to send mass email. This causes issues with limited send capacity and spam filters blacklisting your company, as well as creative limitations. On top of that, without being able to monitor open, click and other response statistics, you never know exactly how your email and list is performing.
Remedy: Use a dedicated email marketing platform.
6. Content or creative issues
This may seem an obvious point, but putting significant effort into both the design and content of you email will pay dividends. A poorly designed email and content that doesn't appeal to your target audience will damage your reputation.
Remedy: Generally speaking, if you are promoting a product, less is more in terms of copy; make it easy for the recipient to glance over then read more detail if the content is of interest.
7. Bad timing
When you send your emails, the timing can be as vital as the design — but the best time to send will vary, depending on your target audience. Get it wrong though and the response will be disappointing.
Remedy: The best way to ensure you send your email at the most appropriate time is to test (and test again) — then opt for the one or two times that you have found give the best open and click results.
8. Not considering spam filters
If you don't even reach the Inbox of your client or prospect, then your email campaign will not deliver results.
Remedy: Make sure you are aware of spam filters and what they react to, ensuring your content is not blocked from reaching the intended recipient.
9. Trust issues
Virtually everyone is aware that email is not a high cost mode of communication, so it does not automatically make a client think "this is a reputable company" when they receive an email — especially if you are displaying any of these other bad habits too. This is another reason that email should be just one element of your marketing and communications arsenal.
Remedy: Combine email with direct mail, social media, web presence, print/TV/radio and any other advertising medium that is appropriate for your business and budget.
10. Product positioning
In the end, every business and product is different; hence you may find that email promotion is not right for a particular product in your range or a particular branch of your business.
Remedy: Always monitor and respond to results and tailor your media as well as your messages.
Tim Holt is the managing director of Data HQ.