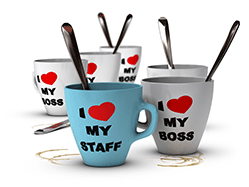 In the current market conditions, businesses rely on their key members of staff more than ever — especially as organisations downsize, cut costs and freeze recruitment plans.
However, what plans do companies have in place to retain, motivate and inspire their key members of staff? Or are you taking those members of staff for granted? What about the staff who seem to have been around forever or the people that have been ultra-reliable, that you count on and put a lot of faith in?
These are the people who have been working harder than most for a long time. They are the people who put in extra hours without question — the people you can leave to handle things when you're away from the office; the people who you can rely on to give you an honest assessment of what's going on.
Yet these are also the people who often get overlooked or taken for granted. They get disillusioned, lose motivation and start looking for other opportunities.
Who are your key members of staff?
For some firms, it's the head of accounts or credit control who keeps late-payers in check and makes sure the cash flow is where it should be. For others, it's the top salesperson that outperforms the rest and brings in large amounts of profit to the organisation. It could also be the head of the admin department or office manager that keeps everything running smoothly.
Now, more than ever it's important to motivate, inspire and retain these key members of staff to ensure business efficiency, productivity and profitability.  So how does your company measure up?
How can you identify the key players?
As conditions change, the key players in your team may well be different than the key players in the past. So how do we identify the key players now as well as the likely key players in the future? As businesses evolve, it can be difficult, but you can accomplish it with a simple exercise.
Exercise: Get out a pen and a sheet of paper. Imagine you're starting the business again today — one that is designed to succeed in today's market. Draw up an organisational chart of what the business would look like, with the key positions in it. Now step back and have a look at it. How different is it from the company you have now?
If you were to fill in names for those positions on the chart, who are the key players — the essential people you couldn't do without? How do they compare to your key players today?
As businesses re-engineer their offering, the key players may change. Are your team on board with the changes? How do they feel about it? Can you rely on them to deliver under a new structure?
Motivating and leading the team
People need leadership now more than ever. As a leader, people will look to you for direction, motivation and inspiration. If you're implementing changes in the business, you need the buy-in of your staff members, and particularly your key players for the changes to succeed.
Many change management programmes have failed because they didn't get the key players on board — those who prefer things the way they were — and the longer they have been in the business, the more likely they are to prefer it the old way.
You need to sit down with them and discuss the changes, the reasons why changes have to be made and what you're trying to achieve and then get their buy in. Failure to do this properly could lead to people sabotaging the project or stiff resistance at the very least.
Setting up and managing the perfect team
If you're planning on setting up a new team, or re-engineering the business and the people within it, you have a great chance to take a fresh look at the business and set up the perfect teams within it. So what does a perfect team look like?
Right now you need people who are proactive, who will do things without you having to prompt them or stand over them to make sure it happens. You need people who are determined to make things happen and see things through. You need people that are on your side, who you can rely on to perform, no matter what.
Motivating your sales team
Nowhere is this more important than your sales team. Your sales team are always an important part of your business, but now they're more important than ever. They have a direct influence on your profits and the potential survival of your business.
So right now, who are the members of your sales team that are regularly demonstrating the right traits? They're going to be facing more objections from clients than ever before — things like "we've got no budget", "things are on hold for the moment" and "we need to get a few more quotes" — and these are from clients that would have ordered without a quibble before.
They're going to be facing more objections from new business prospects. There are going to be more competitors; more projects are going to be cancelled; and more companies are going to be closing their doors. How are your sales team placed to cope? And how are you supporting them now?
You need to work on your sales team and their attitude, skills and abilities — to ensure their sales skills stay sharp and to make sure they have tenacity, determination, resilience, self-motivation, confidence and all the successful traits associated with top sales people.
Andy Preston is an expert contributor to Marketing Donut and a leading expert on sales. His website is at www.andypreston.com.