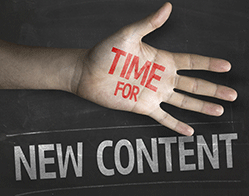 Keeping your website updated is important for encouraging traffic that brings in business. If your team has got in the habit of adding to the business website regularly, you're on the right track. A website that's continually updated will pull better results from search engines and it demonstrates to customers that your business is doing well.
It's also worth trying to come up with "evergreen" content. Evergreen content doesn't become outdated or irrelevant. Rather, it always reads and appears as relevant whether it's viewed the day you upload it or three years later. While all content that's fresh and enticing doesn't have to be evergreen, this kind of long-life content is very useful.
Here are the six "musts do's" of fresh web content
1. Blog weekly
 Blog about new products, share a tutorial with your subscribers or write about what's going on in your business. It's not necessary to blog daily, but add one or two blog posts per week to keep visitors coming back for more.
2. Incorporate a news section
What are people talking about in your industry? Is there an event coming up or a new product launch? Fresh content includes news that's current. To keep it evergreen, use dates instead of time frames. For example, say "on May 29th, 2014" instead of "in a few weeks".
3. Include client testimonials
Current client testimonials show potential customers that your business is thriving and clients are happy with your services or products. Seek testimonials from satisfied customers, add them to a specific page and intersperse them amongst relevant product or service information. One of the best ways to convert a would-be customer is to provide them with previous customer reviews.
4. Get to know your audience
Know your customers and subscribers to provide content that is relevant and enticing. If you understand your demographics, you'll be able to focus on your niche market to cater to the specific needs, personalities and interests of your customer base.
5. Provide updates
Update your readers on past stories or news items, especially if they elicited a large number of "likes" or shares. There's nothing wrong with flying on the coat-tails of a previously popular post if you have a fresh update to add.
6. Link content to current events
Tap into the interest in current events — national or local — through your blog; and promote products and services that customers would find useful in relation to those events.
The foundation of fresh web content
All the fresh content tips in the world won't amount to anything if they're being applied to a website that is clunky to navigate and unpleasant to look at. Before adding a blog to your business website or hiring a professional writer to create content, ensure that your website is attractive to viewers and easy to use. Avoid cramming too much onto one page or overwhelming the viewer's senses with music or flashing pictures. Keep your website clean so viewers can easily focus on the fresh content you've created for them.
Mary Ylisela is part of the writing team at TouchpointDigital.co.uk.