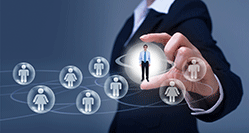 You may think that that social media and direct marketing are two completely different beasts, but I beg to differ.
Engaging with an individual via social media is about as "direct" as it gets in direct marketing. Direct marketing aims to connect marketers to customers and social media allows us to do this in real time with real conversations.
As we all know, selling is increasingly a two-way process with your potential customers more often than not being the instigator of a relationship. No longer do we have the preacher and congregation scenario whereby sellers preach their wares to a voiceless audience. 
Our customers now have a voice and they are using it. 
The key to success is to harness the power of this voice using social media to help spread positive news and reacting quickly to any negative conversations to convert the naysayers.
So how can small businesses improve direct marketing using social media?
Firstly, do your marketing communications enable easy social sharing? If not, why not? Make sure that you include relevant sharing buttons such as Twitter, Facebook, LinkedIn, Google+ and so on. This is a no-brainer; let your brand champions do some of the hard work by allowing them to share and like your content.
The social sphere offers an almost unlimited potential audience, so make the most of it. If you build an online following, real time interaction will allow you to forge lasting relationships as you can appeal to buyers as a human being and not a faceless business. You can then take them offline (don't forget to ask permission) and into a lead nurturing programme.
Integrate social into your marketing campaigns by using offer-based incentives via Facebook, Twitter and so on. This will allow you to find out where your audience hangs out online and enable you to engage with them further on the platform of their choice.
Use your social platforms to try out new content approaches and then, when you know what works, you can add the most successful content to your email marketing.
Powerful marketing campaigns using Facebook can be created where offline or purchased marketing data can be matched to Facebook to offer up ads to individuals you already have intelligence on or even to your existing customers. This can work for both B2B and B2C audiences by creating a human to human approach. The possibilities are endless — you could place a thank you advert as a nice gesture, for example.
So there you have it, social media and direct marketing do not have to be quarrelling siblings; they can work together in perfect harmony to increase the influence and effectiveness of your campaigns.
John Keating is an expert contributor to Marketing Donut and director at Databroker.