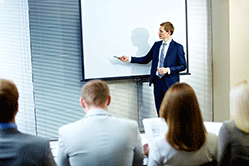 A high-profile speaker walked off the stage mid-presentation at a recent product launch at the CES Technology expo in Las Vegas. It's ironic that it was caused by the failure of the technologically humble auto-cue. But what can we do when this happens? And— make no mistake — it will.
They say speaking in public ranks alongside spiders and death as one of the things people fear most. I'm one of the few who happen to enjoy it — I quite like spiders too — but that doesn't mean I don't get nervous and it certainly doesn't mean everything goes smoothly every time.
The opportunity to stand up and speak publicly always presents challenges. So what can we do to prepare for the unexpected; the auto-cue failing, the heckler at a public event or when you completely lose the thread of what you are saying?
Practise. This means actually doing it, not thinking about what you would do. Jonny Wilkinson doesn't talk about what he's going to do. He puts the ball down, steps back and kicks it, again and again and again.
Learn your opening few lines by heart. If you can walk onto the stage knowing word for word what you're going to say in your first 30 seconds, you will get into your flow more quickly.
Look for things that might trip you up and address them. The auto-cue not working is an obvious one. So practise without it. When I did my IBM training they used to take the bulb out of the over-head projector (remember them?). It taught you to carry a spare bulb and also to practise without your visuals.
Prepare for questions and comments. In public events, hecklers, or questions from the floor are more likely than in an internal meeting. Decide how you are going to handle them.
Have a plan if you draw a blank. We've all had moments when our mind has gone totally blank and we can't think what comes next. Almost always, it will come back to us. We just need to find a way back to safety. Here's what I do:
Don't worry about taking a few seconds to gather your thoughts, they won't notice. A smile, and a sip of water will buy you some more time.
Stay calm and picture where you are in the presentation. This will usually prompt you back to what you should be saying — the few notes I use usually have little images on them to remind me of the journey through what I'm going to say.
Take the chance to summarise. People don't mind being reminded of what you've told them and a recap buys you more time and will usually trigger what comes next.
Go back to your notes. I don't use notes on stage (unless I'm running through some detailed information), but I always have a set to hand. Nobody is going to mind, if you say 'excuse me' and go over to your notes, or take a moment to look down at them. Especially if you do it with a smile on your face.
Andy Coughlin is an expert contributor to Marketing Donut and chief executive of Andy Coughlin Consulting.