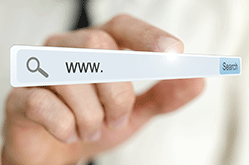 If you get your website right you will win more business — that's the reality of promoting and selling pretty much anything today.
That's all well and good I hear you say, but exactly how do you go about creating the right website — one that really works for your business?
Having worked on over one hundred web projects for service firms in the past few years, here are the top ten things we've learned. I hope they give you some ideas if, like us, you are redoing your own site in the coming year.
1. Think content first — before you get the designers in
If you want a successful website, you'll need put as much time and effort into planning it as your designer spends on building it. Great design has never mattered more but don't launch straight into it.
2. Choose a web designer with an active social media presence
By hiring a web designer or developer with a strong digital presence — someone who creates great content for their own business — you can be sure that they understand how to get your site right.
3. Involve your clients in the development
If you want to create a site that really engages prospective clients look at what you do from the outside in. See your business through their eyes by asking your clients for feedback. 
4. Give your website a strong story
Your story is a golden thread that runs through all your content and illuminates what you do. Get this right and the rest of the content will flow. Hiut Denim's website, the super-strong message from Finisterre and B2B firm Desynit are all great examples.
5. Create a valuable online resource for visitors.
Good websites are also packed with helpful and inspiring content. In fact, when it comes to the helpful stuff vs. sales information, try following the 80/20 rule of content.
6. Provide content for every step of the sale
Effective websites equip the visitor with the information they need at every step of the sales process — from browsing and researching to just about to buy. Think through what your buyers need throughout the journey to becoming a loyal client.
7.Remember — relevance is all
It's neat to be niche when it comes to the web. Whether you focus on one or many niches, the trick is to serve up relevant content that meets the needs of each sector.
8. A working website doesn't stand alone
Your website is plugged into a much wider lead generation and lead nurturing system. It's linked to the social web, to your growing email subscriber list, to your contact database, to smart analytics. Marketing automation is becoming more important — it can improve the visitor's experience, help you power and manage relationships and measure the results.
9. Mobile matters
If you're creating a new website, make sure its design is responsive, so that it is easily viewable and useable on any device. With the rise of mobile the power of visual content has never been greater so don't forget to include video content.
10. The work doesn't stop once you've launched your website
A website is a platform to build on, not an end in itself. Be clear on your content strategy, create a publishing plan for the months ahead and keep adding and sharing great content if you want to get found and loved. It takes time to build up that head of steam when it comes to driving leads from the web but hold firm. If you follow these tips and continue to add value, results will come.
Sonja Jefferson is an expert contributor to Marketing Donut and content marketing consultant at Valuable Content. Sonja is co-author, with Sharon Tanton, of Valuable Content Marketing.