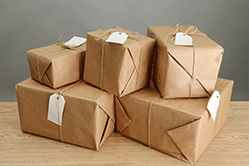 Whether you're selling antique furnishings or secondhand computer accessories, there's plenty of money to be made from the cyber sector — and it can be effective to use a site like eBay to sell to customers.
But before you go in head first, there are a few tricks you should take note of. In particular, liquidating inventory can become a sticking point for businesses in the digital marketplace — that's why it's imperative to understand the difference between the genuine value and the perceived value of an item; and marking up your goods appropriately.
The price is right
It can be tempting to snap up deals when you are buying stock but before you know it, you'll have accumulated a vast amount of goods that may not seem like quite such a bargain. That's why it's important to bear in mind that you're not buying for you, you're buying for your customers.
Establish who your target audience is and then research their buying habits. Take a look on eBay and see what prices are being listed for items similar to yours. A helpful feature is eBay's buying formats option, which is separated into two categories: Auction and Buy It Now. Simply select the latter, and the auctions will display a fixed price for that particular product. Then you should aim to price your item within that same costing range.
Less is more
You can also take a look through any auctions that have ended. This allows you not only to see previous sales for products currently not up for auction (that you could add to your own range), but also to identify items that were priced too high and that failed to sell (shown in red).
It's also imperative to take into account your postage and packaging costs and assess which delivery rates and services to use — again you can research through other eBay traders. All too often, online retailers underestimate the costs and effort involved in shifting their supplies, so set realistic targets and bear in mind any bank holidays that could affect delivery times.
Digital deals
Over time you'll be able to judge for yourself just how well your market is performing and gauge just how much people are willing to pay.
The secret to maintaining a successful online business is to have a steady stock that can be resold for a profit. Don't invest too much time into a larger-than-necessary inventory, as some items may quickly go out of fashion and not make as much as you had hoped. By striking the right balance, you'll soon become an expert on eBay.  
Written on behalf of Parcel2Go.com.