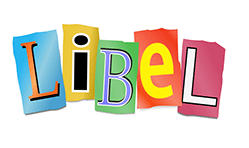 It's all too easy to sit at your laptop and write something in the heat of the moment — a complaining email or even a tweet or Facebook update having a moan about something. But these online moments could land you and your business in court.
Just because you are writing something in the comfort of your office or sat on your sofa in front of the TV doesn't mean it might not have serious legal implications. It's all too easy to respond to something in an instant — post a comment here, have a rant on Twitter there — but you should consider whether your actions might be stepping outside the boundaries of the law.
One tiny comment can have far reaching effects in terms of who sees it and what it means for you or your business. Your tweets, status updates and reviews are out there in the public domain, for all the world to see, and unfortunately, some may come back to haunt you. If you think the internet offers a free rein to say whatever you want, you need to think again.
How 140 characters can get you into a lawsuit
If you have written a comment on a social media site, on your own or a competitor's website or on a review site such as TripAdvisor or FreeIndex, you could be committing libel. Recently, there have been several high profile libel cases surrounding Twitter, including Sally Bercow's tweet referencing Lord McAlpine.
The fact that the UK High Court found that her tweet was libelous shows that you don't even have to explicitly defame someone for it to represent libel. Justice Tugendhat ruled that innuendo was equally damaging, carrying the "same effect" as the natural meaning of words.
A warning to social media users
Sally Bercow said: "Today's ruling should be seen as a warning to all social media users. Things can be held to be seriously defamatory, even when you do not intend them to be defamatory and do not make any express accusation. I have learned my own lesson the hard way."
It has been reported that online libel cases have doubled in recent years due to the social media explosion, so don't think that social media is still a grey area in the eyes of the law — it's really not. Your bite-sized tweets, status updates and comments on social networks (personal and business) are all covered by UK libel and defamation laws.
Even search giant Google has found to its cost that online defamation can take many forms. It has been sued several times because of its auto-complete feature, which whilst a useful tool for most of us, has been found to link people's names with offensive or misleading terms, resulting in expensive lawsuits.
So what are the laws for online content and libel?
UK law is very clear on libel: anyone who makes a defamatory comment in published material about an identifiable person (ie someone named, pictured, or otherwise alluded to) that causes loss to business or reputation has committed libel. As the Sally Bercow case shows, a person does not even have to make a direct allegation, as UK libel law equally covers insinuation and implication. All social media users need to be aware of this.
Unlike criminal law where the burden of proof lies with the accuser, with UK libel law a defamatory statement is presumed to be false, unless the defendant can prove it's the truth.
If you are in any doubt about what you can say online, take a look at this useful article Can I write whatever I want online? but my advice (and I'm not a lawyer I hasten to add) is never tweet or comment online in anger as it may land you (and your business) in a lawsuit!
Sarah Orchard is an expert contributor to Marketing Donut and a consultant at Orchard Marketing Associates.