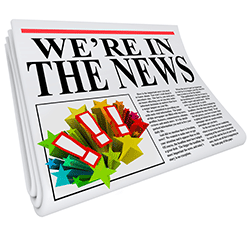 Driving awareness is a key challenge for any small business. As a budget-efficient channel, PR is often called upon to help achieve this objective and there are plenty of PR experts out there that can help. But I do think business owners can do much themselves, particularly in B2B or service sector. Many business owners shy away from PR — here is a step-by-step guide to getting some coverage for your business:
Spend time planning
Identify your business objective and your target audience.
Decide on the publications (or online media) you will speak to based on what this target audience reads.
Do your research before you approach them — look at past and current coverage, who is writing what and identify key themes.
Work up your story
You need a hook. That means you either need to create a compelling hook for your story or you need to jump on an existing trend or news story.
Focus on a real person's story where you can; it might be the business owner, a great start-up story against the odds, or a customer story.
Think "so what?" before you send your press release. Is it really newsworthy? Will this be relevant to your target publication?
Write your press release in a style that suits the publication you are targeting.
Sell it in
Identify the actual journalist that looks after your kind of story. If you are clear on your target audience, you'll find there are probably only a few key journalists you actually need to build a relationship with.
Give journalists a few days' warning about any event you are holding and invite them along.
In terms of making contact — most journalists prefer to get an email first, then you can follow up with a phone call.
Be passionate about your story — passion is infectious.
Don't be afraid to call media news rooms, they are looking for stories after all.
Take feedback on the chin, listen and come back with improvements.
Be comfortable losing a little bit of control, it is the journalist's story not yours.
Don't tell them what to do, they are the experts and it is their job to know what is newsworthy, if they say it isn't then try a new story.
 And finally…
Set realistic expectations — start small and work up.
Always remember that you cannot guarantee PR coverage, you have to earn it. Sometimes even the best stories can get knocked out if a huge news story hits.
Follow up and don't give up … just one serious piece of coverage can make a huge difference to your business.
Christina Richardson is a business marketing specialist, mentor and founder of The Nurture Network. She is also co-founder of the Brand Gathering community, helping young businesses to grow by working together.