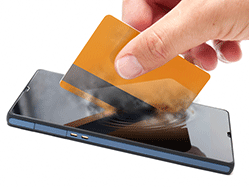 Last December, the first Small Business Saturday event was held in the UK. The campaign was designed to encourage shoppers to head to British high streets and family-run businesses and to show support by purchasing goods locally.
Small Business Saturday was a great success but there are many more opportunities for small businesses to reach and engage with new and loyal customers using mobile commerce.
The growth of mobile commerce
Online retailing grew by 16% during 2013, according to the IMRG-Capgemini eRetail Sales Index for December. The index noted that this success has mainly been driven by the growing influence of mobile in retail in 2013, with sales via mobile devices increasing 138% from 2012.
Furthermore, a recent survey by Latitude found that more than 75% of shoppers are interested in having digital content, including product recommendations, demo videos and virtual "try on" simulations delivered to their mobile phones while shopping.
Mobile offers
Small businesses can use mobile couponing and offers to bring customer in-store. In fact, the same survey found that 60% of UK smartphone owners are spurred to shop or to make a purchase at least once a week because they've received a mobile alert, an email, notification or text message, from a brand or retailer. So the interest and appetite is clear.
The role of mobile in helping small businesses should not be underestimated. Mobile devices have created a huge opportunity for small businesses to engage with their customers through relevant offers, loyalty schemes, store events/updates and ease of payment in-store and online.
More and more small businesses are starting to use loyalty and couponing redemption schemes to attract and retain customers and there is a real opportunity for them to learn more about who their customers are, what their preferences are and eventually what will encourage them to visit the store, all through the use of mobile.
Introducing NFC tags
Furthermore, small businesses can use Near Field Communications (NFC) to help them in day-to-day scenarios. For instance, a small business could use NFC tags to grant employees access to buildings just by tapping their phone on the tag. This also enables small business owners to restrict access to high-value stock rooms and back offices to certain individuals. NFC tags are readily available on Amazon.com and are a good way for small businesses to experiment with mobile technology.
Pierre Combelles is mobile commerce business lead at the GSMA.