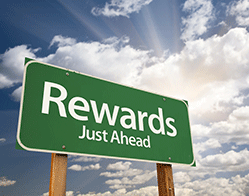 Customer retention is incredibly important for growing a sustainable business. The relationship you have with your consumers shouldn't end once the initial deal has been done and an essential component of any customer strategy should be developing repeat custom.
Get it right, and your loyal customers can become key brand ambassadors, helping to bring in new customers from among their friends, family and acquaintances.
Using loyalty or reward schemes is one way to attract and retain customers. Here are some top tips for small businesses on how to make the most of them in order to establish a long-term relationship:
1. Communicate clearly
If your customers are entitled to be part of your reward scheme, then make sure they are clear why they are being given the reward and what value it holds for them. Remind them frequently that they have the benefit and relate it to their current requirements.
2. Make the rewards relevant
The reward on offer must be relevant to your consumers' requirements, interests and aspirations and it must compliment your brand. In recent years, with many consumers having had to tighten their purse strings, those brands that have been successful in building loyalty are those offering rewards and discounts that are relevant in terms of product, brand and timing.
3. Keep it simple
Don't overcomplicate the rewards programme as your customers may not understand it and will not engage with it. Present consistent offers that offer the greatest level of flexibility and are not limited in number or by timescale, rather than one-off deals that are only available for a fixed period of time. This helps to establish a long-term relationship.
4. Stay fresh
Keep the reward programme interesting by offering new opportunities. This ensures customers stay interested and shows your commitment to great customer service. This can increase repeat purchase and build loyalty and also gives you a reason to communicate more. This in turn enables the collection of valuable data, so you can develop more targeted communication going forward and have a real impact on the bottom line.
5. Stand out from the crowd
To achieve stand out from other loyalty schemes, reward your customers with something that is not readily available elsewhere. If you can deliver better value than those offers and discounts that are freely available on group discount and other websites, then your consumers will take notice.
6. Make sure you listen
Remaining in constant two-way communication with your consumers is key. If they feel they have a voice they will be far more engaged. Allowing them to feel they are shaping their reward package through feedback and suggestions will tell you exactly what they like and don't like about the current offering.
7. Ensure your programme can attract and retain
Giveaways and welcome bonuses work very well for customer attraction. However, after the initial reward has been offered, a secondary element is required to aid retention. A programme that can do two jobs in one can save a great deal of time and money and have fantastic results. Impressive acquisition results can be achieved through promoting the benefits of the scheme. Then, through successful engagement and repeated usage, you can add a strong retention element. If your customer's daily life is enhanced by a rewards package, they will be reluctant to sacrifice this through moving to another brand.
The right reward scheme can turn a customer's first purchase into a lucrative, long-term relationship.
Daniel Nugent is head of Entice.