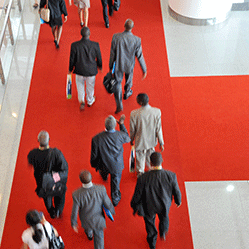 Exhibitions are a brilliant way of getting your brand under the nose of industry movers and shakers. But they can also be very expensive and hard work. Exhibiting at a trade fair can take a huge chunk out of your company's marketing budget and it's important to make sure the investment is well used.
For me, the stands that I am attracted to and that I remember after an event are those with a clear offer. It might be because they are clearly showing, through their banners or literature, that they deal in something that my company needs, either now or in the future.
But suppose you're exhibiting at a trade fair where there are lots of companies who do exactly what you do. You have to compete with them for the attention of as many attendees as possible. There are several ways you can entice attendees to engage with your stand rather than that of a rival.
Dare to be different
Don't be afraid to think outside the box — novelty sells! Fancy dress and themes can be great ideas. At one exhibition I attended, I came across a stand for a company that sold office cleaning products and services and the staff were dressed as fairies — even the men! It drew a lot of attention and they were busy all day long. This sort of thing may not be to everyone's taste but if you can find an angle, it really can work for the right company.
Creating a buzz and atmosphere is a big draw too. Get some interactive games going, and have a leader board with prizes for the top scorers. There's nothing like a bit of competition to pique the interest of company executives!
Make people comfortable
And what works for us? Comfy chairs. Exhibitions are tiring and attendees appreciate the rest while we're bending their ears about our products. Not many stalls provide them for fear of slowing down attendee turnover, but the longer you can keep people on the stand, the more chance you have of making that sale.
Finally, don't underestimate the draw of sweets and giveaways. All kinds of exhibition-savvy visitors will make a detour if they get word of a decent freebie!
Good luck.
Jo Morris is director at Rio Lounge, an exhibition furniture hire company.