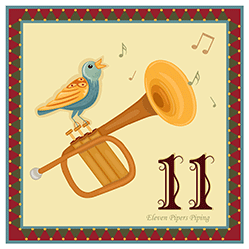 Just like people decorating their houses for Christmas, there are countless ways of preparing your business for the festive season, depending on the type of operation you run. For instance, if you're a plumber, it might simply be a question of finding a reliable means of managing any calls that could come flooding in (no pun intended) if there's a cold spell and pipes start bursting.
On the other hand, if you're a retailer, then there are many opportunities to make those cash registers jingle more than ever.
Here's my guide to the 12 days of Christmas planning for SMEs. You may not be able to afford £7 million for a Christmas TV advert like John Lewis's "The Bear and the Hare" — a lavish animation with Lily Allen trilling Keane's Somewhere Only We Know in the background — but there's still a lot you can achieve even on a tight budget.
On the first day: Christmas callers
All businesses need to think about communication with customers who may call over the festive period. While you're enjoying some stress-free time with family and friends, will people be able to leave messages for your business, can someone else in the organisation field any calls or would it be easier to make use of a telephone answering system?
On the second day: Spring-clean your site
Online sales are still rising as a proportion of total sales. Have a look at your website and make sure it's fighting fit. Are there any broken links? Does it provide all the relevant information in a simple, readable format? Make sure it's updated it with sufficient information about when you are closed and when you will be back at work.
On the third day: Spread the word
Use your website and social media presence in an engaging way and be sure to add value for your customers. Remind them about your special offers, products and services and think about hosting exclusive competitions, special discounts, awards or giveaways.
Whether it's a huge sale, an in-store event, a brand new product or service, make sure you use all the channels available to you including Twitter, Facebook, Pinterest, Google+, and your own direct channels such as email and database marketing.
On the fourth day: Pay-per-click advertising
Localised, seasonal pay-per-click can help you reach new potential customers online. Consider increasing your bids on relevant keywords — and rewriting your ads to emphasise things like free delivery.
On the fifth day: In with the old with the new…
"Out with the old, in with the new" is not the best approach to Christmas marketing. Getting more sales from existing customers can be a better bet than searching for new ones — they're already your fans! Think of ways of capitalising on this, such as discounts for existing customers and cut-price upgrades to newer/better versions of things they've bought in the past. 
On the sixth day: Put the customer first
Go the extra mile for your customers. They need a reason to come back to you rather than your competitor. Giving great service is among the best ways to achieve this. Give some thought to how you can achieve this for your business.
On the seventh day: Sell your uniqueness
Competing against the big boys is a major challenge. If competing on price is difficult or impossible, be sure to highlight the fact that yours is an independent business and therefore unique. Look at ways of emphasising what's special about you — for most small businesses it's the level of service they can offer.
On the eighth day: Be flexible on delivery
If the items you sell have to be delivered to the customer, make sure you're offering as wide a range of delivery options as possible. Are you able to offer next-day delivery immediately before Christmas to accommodate late buyers?
On the ninth day: Returns
Remember that returns usually increase after Christmas. Customers will want to know that the recipient of a gift will be able to change the item if necessary. Think about how you can make this as easy and economical as possible.
On the tenth day: Additional resources
Everyone needs elves at Christmas. It's a good idea to consider temporary workers as a means to be more agile and scale your staff in line with business requirements such as extended opening hours.
On the eleventh day: Staff training
If you have staff, they will be under extra pressure during the festive period. Consider running refresher training to ensure they are up to speed. Above all, ensure they have full information about any new offers you are running. The same applies if you take on additional staff to help out over this frenetic period.
On the twelfth day: if you're planning to go away for Christmas
It's like having your Christmas cake and eating it — you're going away, but you want the business to carry on perfectly. If you have reliable staff to cover for you, there should be no problems. If not, you might want to think about outsourcing your operation temporarily by using one or more of the many business solutions available to SMEs.