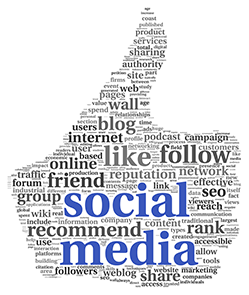 It has never been easier for small businesses to market their businesses for little more than their time. But if you are still unsure about social media, content marketing, online advertising and blogging, you are not alone. Many sole traders and small firms are only now starting to take full advantage of the possibilities that digital marketing offers. It's not too late to start!
Tip 1: Make the most of landing pages
Landing pages are focused, customised digital sales pitches, designed to transform your website visitor into a valuable business lead. A good landing page targets a specific audience and allows you to capture a visitor's information through a lead-capture form.
Tip 2: Crack social media marketing
Social media is big, really big. In fact, it has been predicted that by 2016, Facebook may be the largest country on Earth. And with some 130,000 people signing up for a Twitter account each day, it's easy to see why businesses are tackling social media head-on. To get started, create profiles on the places where your prospects hang out and start talking.
Tip 3: Content rules the waves
Content has been the marketing buzzword of the past two years. And alongside content marketing, techniques such as inbound marketing and lifecycle marketing have done away with the older, push marketing techniques and heralded new, more effective pull marketing.
Pull marketing uses intelligent, high quality content to encourage people to visit and seek out your website and products, rather than showering them with endless emails and phone calls.
To really crack online lead generation, you need to distribute lots of content, and not just any old content. Only high quality, fresh and relevant content will do. This is where blogging really comes into its own.
Tip 4: Blogging
From fashion-forward teens to amateur chefs and even celebrities like Gwyneth Paltrow, bloggers are taking over the digital landscape. But you don't have to be a celebrity to benefit from blogging. For good old fashioned B2B lead generation, blogging has become the reliable wingman that can help you gain prominence and boost your reputation in your target market.
Rhian Morgans is an online PR executive for Tomorrow People.