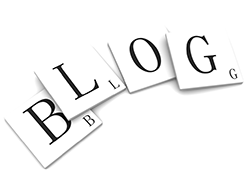 Does your business website have a blog? If not, it should! Not only are blogs great for building brand loyalty, they're also incredibly useful for improving your search rankings. Think of a blog as your own personal newspaper. What do your customers want to know?
Blogging like a business pro isn't all that hard, it just takes planning. Here are 13 steps to get you started.
1. Pick the right "home" for your blog
It's easiest to host your blog on the same platform your website runs on. If you prefer a free site like Wordpress or Blogger, talk to your IT guru about creating a subdomain for your blog. If you must create a totally separate domain for your blog, get as close to the business name as you can.
2. Title your blog well
Don't get too creative here. For the best SEO results, pick a name that will hit the keywords you want. Use subtitles if you need to convey more information.
3. Create a content plan
Most businesses shoot themselves in the foot by beginning to blog, then abruptly stopping when things get busy. Have a content plan in place as well as a concrete blogging schedule to prevent this from happening, and bring in an outside content person if necessary.
4. Build up some reserve blog posts
Before you start promoting your blog, fill the "drafts" folder with a few reserve blog posts that aren't too time-sensitive. Be sure you've got a few posts live on the site before you start pointing people there, too, so they have something to read!
5. Link your blog to your social accounts
Before you get too deep into posting, be sure your blog is connected to your social accounts like Facebook and Twitter. You'll want some social widgets on the blog, too.
6. Take some photos
Business blogs simply shouldn't steal photos — it's a recipe for a lawsuit (and unethical!) Spend a couple hours and even bring in a professional photographer to create a library of business images you can pull from when posting down the road.
7. Start posting regularly
Aim for at least once a week for the first few months of blogging, more if you can. And remember that although every blog post should contain correct punctuation and formatting, they don't always have to be long-form reads.
8. Promote every time you post
Every single time you post, you should be promoting, especially via social media. Be sure to reach out to people you think would be particularly interested in the content one-by-one.
9. Bring in other people to liven up your blog
Have like-minded professionals or industry figureheads write a guest post or give you an interview. It will make great blog fodder and you'll get double promotion points when they promote the post, too.
10. Offer incentives for people to follow
You own a business…give people a reason to follow you! Whether it's useful information delivered in emails to blog followers or coupons for discounted service for people who follow, people need a reason.
11. Stay flexible
It's easy to get stuck in a routine of creating the same type of posts week after week. Mix it up! Post a video one week and a white paper the next; you'll seem more adaptable as a company.
12. Never forget about SEO
Your IT pro may be helpful here, but you should learn the basics of proper SEO formatting. Headers, links… know what these things are to best position your blog.
13. Check in with your readers
Once you've established a great group of loyal followers, get their opinions! Find out what they'd like to see more of and less of and never forget what a valuable resource your comments section is.
Business blogging isn't complicated, it just takes preparation.
Ryan Currie is a product manager at BizShark.com, with 5 years experience in online marketing and product development.  In addition to web related businesses, he also enjoys the latest news and information on emerging technologies and open source projects.