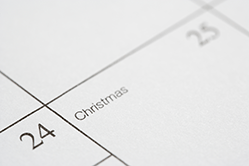 It may seem a long way away, but if you run an ecommerce business then you should already be planning your marketing campaigns for a really successful Christmas season.
Planning for Christmas has the advantage of a defined end date — you should know the last date you can take orders and still get them delivered. So that's the first thing you need to work out — when is your last order date for Christmas?
Once you've got your end date, you can start planning in the relevant promotions and create a plan.
Plan your stories
The strongest marketing plans are those that are built on strong stories. Stories are the subjects and themes that hold together a set of activities over a number of weeks and across your marketing channels.
What should your stories for Christmas be? And just saying "Christmas" for three months is copping out. Here's some ideas get you started: 
Last order dates
Stock up on stocking fillers
Christmas cards
Last minute gifts
Personalised gifts (usually with an earlier last order date)
Order early discount weekend
None of those is particularly creative, but building on your brand and events around Christmas can give you some great stories. From 1st October to Christmas Day you should aim to have four to six different stories.
Schedule your story-telling
Once you've got your stories, pencil them into your calendar. Next, start filling in the big marketing activities. The big ones are those that get seen by lots of people; your emails, what's on the homepage, social media competitions, blogs, videos and other content.
While you're working out the content of these emails and blogs, you'll probably find you want to jig around some of the stories because you've got more ideas under some than others — that's fine, that's why we're planning all this now, so you have time to make those changes.
Mini-marketing
The next part is to fill in the mini-marketing activity, those areas that don't require a whole blog post or a whole email to be created but which are no less essential to a successful season. These include: remarketing, pay per click advertising and social media posts. You need to note when key changes need to be made, such as when ad text needs to be rewritten and the important things you should be tweeting about.
If you get your Christmas marketing plan together now, it's going to make your season both more successful and easier to manage. But, don't forget a good marketing plan is flexible — so monitor the results and if you need to change it, change it.
Chloe Thomas is an eCommerce expert and the author of eCommerce Masterplan.