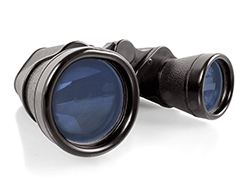 Every element of your business operation is in order — your marketing strategy has been planned to perfection and you're ready for action, but if your target audience can't find you easily it could all be for naught.
All too often, companies have a perfect product and a flawless business plan, but they forget the little things — like not displaying the correct contact information on their website. If the target audience can't find a brand and engage with it, then the chances are they will find a competitor instead.
Display your contact information prominently
As you develop your marketing materials, whether offline or online, make sure that your address, email, phone number — and Twitter or Facebook accounts if you have them — are easily visible on every page. If you haven't got the space to put all your details on printed marketing material, use a QR code to link to a mobile business card to ensure every piece of information is available to your target audience.
Don't just use an impersonal, generic contact form
Show your target audience that when they deal with you, they're dealing with real people as opposed to a machine. Include a link to your email account and make sure that it is regularly checked, responding to customer queries as they come in.
If your target audience includes existing customers, be sure to provide the contact details of someone who will help them if there's a problem, including a name, phone number and business address. If you're a "one man band", use your own name. Just make sure people know who to contact and how.
Create a social media footprint
Whatever line of business you're in, some members of your target audience are unlikely to believe you exist if you don't have a social media footprint. Major social media sites such as LinkedIn, Twitter and Facebook are invaluable platforms for engaging with your customer base, sparking conversations about your campaigns and products and raising your public presence. Establishing a Google profile is also a good idea as many experts and tradespersons operate within its circles.
Brand yourself on everything you do
You are an expert in your field so why not write about it? Creating a business blog gives you a stage to promote whatever your brand is saying and may provide a talking point for visitors to your site. Whenever you develop content for your website or for anything else, embed a link to your site and social media pages at the end of the post, along with an author bio.
In summary, the more media platforms you have for engaging with customers the better. Place contact information in a prominent place so that you can help browsers when they try to find you and to stop business going to your competition.
Remember, sales happen when opportunity and preparation meet on the same day.
Ryan Higginson is vice president digital channel Europe at Pitney Bowes. The pbSmart Essentials free online masterclass offers marketing advice to SMEs.