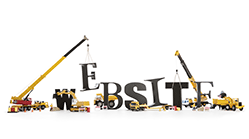 Hundreds of thousands of small firms in the UK don't have a website. That's right — hundreds of thousands. In 2013.
The latest statistics vary but they pretty much tell the same story. According to the Office of National Statistics, 21% of small firms don't have a website. The Federation of Small Businesses (FSB) says a quarter of SMEs don't have their own website. And hibu (formally Yell) puts the figure at an alarming 37%.
So who are these dinosaurs?
They are, undoubtedly, people we do business with every day — the plumber, the landscape gardener, the decorator and other sole traders. Then there are the small retailers that don't sell online and so don't bother with a website — the local bakeries, florists and cafes, for instance.
It's not that they have their heads in the sand — they are just getting on with the job. Their business strategy is focused on passing trade and word of mouth. Sure, things are tough, but these are tough times we are living in.
If it ain't broke, don't fix it, right?
But is it grinding to a halt so slowly you haven't even noticed?
The cold fact is that businesses of all shapes and sizes are losing out if they don't have a website. A new poll of 2,000 O2 customers has found that a quarter of respondents would not use a small business if they discovered it didn't have a website.
And the O2 report calculates that this is collectively costing small businesses in the UK £13 billion in missed sales.
This year's Local Business Week in May highlighted the importance of having a website for local shops. Writing in the Guardian, event organiser Phil Browne, said: "We've heard many stories of potential customers passing a shop or service, taking a mental note of its name, but getting frustrated at finding no website when they're at home. Customers expect to find small businesses online, and some want to be able to talk to you and to buy products without having to go to the physical premises."
So what's holding back these stragglers?
Many small firms believe they don't need a presence on the "world wide web" because they serve a tiny geographical area. Others say they only need a few regular clients and they have got those already. Then there are the usual challenges for any busy business owner — lack of time, money and expertise.
But the fact is that even the smallest businesses need an effective website. And here are eight reasons why:
No-one is looking for your type of business in the Yellow Pages anymore. They just use Google.
Word of mouth has gone online.
Websites work hard on your behalf 24/7.
Your competitors have a website.
Your competitors have rave reviews and testimonials on their site — but no-one knows what a good job you do.
Right now, someone is searching for your contact details or opening hours online and they can't find them.
Because they can't find you, people think your business is outdated, unprofessional and even, perhaps, a bit dodgy.
Have you noticed? — the phone has stopped ringing. Research is done online these days and if people can't find the information they need, they'll go elsewhere.
Rachel Miller is the editor of Marketing Donut.