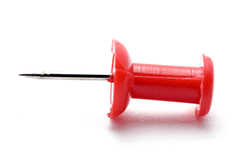 Around 71% of businesses never use Pinterest, even though traffic to the site has doubled since mid-2012. In fact, Pinterest now has more than 20 million users and it is growing year-on-year.
Pinterest offers a creative and more interactive alternative to larger social media sites. It is a market research tool if you are setting up a business as you can see what kinds of images and interests people enjoy on their boards. This can generate new ideas for a project and even help suggest what sort of direction your company should be going in.
Visual appeal
It is important to plan what you pin on your wall. Include images that relate to your business and industry. Keep in mind that Pinterest's key appeal is the fact that it is visually beautiful. Try to think outside of the box if you are a technology company for example, trying to market a new phone or laptop. Think colourful, not grey, and remember that your target audience use Pinterest because it is different to other social media sites.
That isn't to say that you should keep your Pinterest profile insular and disconnected. Linking your profile with Twitter and Facebook accounts provides maximum exposure. By ensuring that you start out with a memorable company logo, this logo can be spread over all the sites and will gain visual recognition. As well as a logo, also have a well thought-out description of your company explaining what you do, what you sell and how to contact you.
Pinning on the go
Provide a variety of pins to your board. For instance, if you are selling shoes, pin some examples of good street fashion images that you have seen or create really interesting images of the shoes yourself.
With phone cameras, there are no excuses to not snap something when you see it. With editing programs like Instagram, even a quick snap can be made into good visual photography. With the Pinterest app, pinning on the go from your mobile has been made possible.
Alongside all images that you post, write a description and try to avoid sounding clinical. Also remember to use keywords related to your business so that they can be found more easily in searches. When using other social media sites, have a picture with every story so that this can be linked to Pinterest to optimise your web content.
Becoming a sociable pinner can be beneficial. If you "like" a lot of images, comment and re-pin images, you can gain higher exposure and hopefully, increased traffic to your profile. When people visit your page, have a Pin It! button ready so that they can like and share your content with others.
Sue Williams is a freelance copywriter who also writes on behalf of Newsfix.