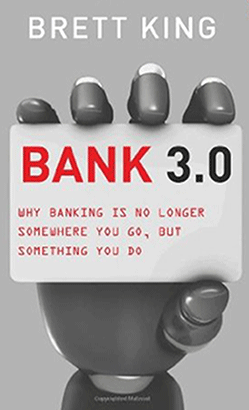 Brett King is the author of Bank 2.0, a futurologist, a banking sector specialist and founder of Movenbank. He's an author who practises what he preaches. When he wrote Bank 2.0, he was ahead of the curve and with Bank 3.0 he now jumps even further.
Speed of change
Banking is of particular interest to us, but I think this book is relevant to any industry or business. Brett King takes all the changes in:
customer behaviour
technology
internet 
data
mobile
social media
and explains how that impacts on banking. All these changes are also impacting on your business. Change at a neck breaking speed (everything is faster, cheaper, smarter) is ensuring an explosive mix of not only a lot of new technology but also much quicker adoption of new technology by consumers.
Key question one
A key question for you is how to sync the adoption rate of your clients with your own organisation.
The answer is with intelligent, non-intrusive permission marketing. Customer service. Digital. Driven by convenience and relevance. Without friction. When and where they want. In context and with an ability to predict, and be precognitive. Preferably on a mobile device and as an app.
And with a social media engagement layer on top. Engagement and dialogue as part of the customer service mix are critical. Why? They are talking about you anyway. And engaged clients spend 30% more. Not pursuing a social media strategy will be more expensive that not.
Key question two
How delightful, frictionless and social media savvy is your customer service?
Some statistics:
By 2015, mobile devices will dwarf PCs (you have two years left)
People spend 72 minutes a day on apps
Two-thirds of Americans sleep with their mobile phone
Only 4% of people under 18 years old use e-mail
Every minute, 100,000 tweets are generated
2011 created 5 exabyte (one exabyte is a billion gigabyte) of unique content.
Key question three
Are you and your organisation ready and digitally competent?
Bank 3.0 (=Business 3.0) is about change. Change that is inevitable, change that is speeding up and change that is extremely disruptive. You may not agree with the predictions. But you hopefully agree that consumer behaviour has changed and you are amazed how many people use iPhones, Android devices and tablets. Or how many people are discussing Facebook and Twitter.
Keep talking to your clients. Innovate and experiment. With the current adoption cycles you can't afford to wait. Create a team that is both an advocate for customers and enabling advocacy by customers. Create great customer journeys. Give these resources huge support. They are your future.
If you don't adapt, customers will pass you by at warp speed. Get on board or get out of the way.
A cracking book!
Ron Immink is the CEO and co-founder of Small Business Can and Book Buzz — the website devoted to business books.