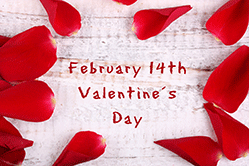 They say that, "Valentine's day is just a Hallmark holiday" but actually many companies try to boost sales in the run up to the romantic day with clever tactics. So how can small businesses get ahead?
Remember your target audience
Valentine's Day is a great excuse to reach out to your customers and attract new ones. According to the Daily Mail, last year men spent £611 million while women only spent £269 million! So while Valentine's Day might appeal more to women, it's the men who do the spending. Be sure to segment your audience to get the best results. Ask yourself what will appeal to them and what your business could offer them? Remember — although romantic gifts are Valentine's Day favourites, this may not appeal to your audience.
Obviously, not everyone has a significant other. Depending on your demographics, beware of Valentine's Day scrooges. If your customer base isn't the romantic type, why not use it to your advantage? Send an anti-Valentine's Day message or something romance-free; at least there is a chance you'll stand out!
Creative promotions
You don't need to be in the flower or chocolate industry to benefit from Valentine's Day. Promotions can be an effective way to reach out to your existing audience and find new customers; however you will have to be creative. Try to think of how you can create a competition, offer or give-away without it being out of place. You could choose to reward your existing customers with a discount or Valentine-themed gift, showing your appreciation for their loyalty.
Social media engagement
Decorating your social media pages is a great way to get your business into the romantic spirit. Add a few hearts to your profile picture cover or background; just be sure to not go overboard. This is also a great time to use social media to engage with your customers through Valentine-themed calls to actions; you could run a competition where your followers share their worst or best Valentine's Day stories.
Show your customers some love through your employees
By going the extra mile for your employees, it's more likely that they will go the extra mile for your customers. Employees who are happy and care about the business are more likely to deliver exceptional customer service, solve customers' problems and go out their way to prevent them.
During the lead up to Valentine's Day, organise a fun event for your employees or even send them all a small goody pack. This is a cost-effective way of increasing the morale and efficiency of your workforce. It may also help you increase your sales too.
Laura Woodhouse is writing on behalf of luxury four star hotels company, Puma Hotels.