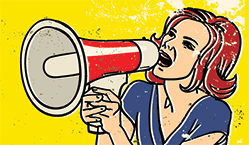 An old adage that small businesses use to remind themselves about the importance of customer service says that, "Every dissatisfied customer tells 13 people and every satisfied customer tells two".
It seems as if the deck is stacked against you doesn't it? But what this concept really says is that word-of-mouth is a powerful tool. And small businesses that take advantage of word-of-mouth marketing are successful.
Business Review has a handle on the effects of word-of-mouth. It reveals that "92% of people trust recommendations from friends and family above all other forms of advertising when making a purchasing decision." Since 2009, less than half the people seeing television ads, magazine or newspaper ads believe they are credible. These figures explain why online marketing is growing so rapidly.
The importance of customer service
However, businesses of all sizes need to understand what word-of-mouth marketing is. In its simplest form, Customer A is pleased with her purchase and confides in a friend who becomes Customer B. This is the desired progression of word-of-mouth marketing.
Of course, a lot goes into pleasing Customer A. The component of a business that impresses people is customer service. Strong customer service can even cover product deficiencies. If you expect to succeed with word-of-mouth marketing, you must have a strong customer service protocol.
And, of course, today's word-of-mouth marketing should include mobile marketing and text (SMS) marketing.
The influence of social media
Consumer buying habits and shopping habits are changing dramatically — thanks to smartphones, iPads and cellphones. One of the more powerful means of word-of-mouth marketing is provided in social media.
Factbrowser recently published some interesting statistics about word-of-mouth marketing:
38% of people have recommended a brand they "like" or follow on a social network;
23% of online shoppers in the UK talk to friends and family in order to help them make a purchase;
85% of Chinese online consumers regularly use social media to share their experiences with online purchases;
60% of US online consumers gather insights on companies from their friends' social media posts, compared to 50% for the UK.
In addition, comScore 2012 reports that 20% of smartphone users scanned barcodes in 2011 and one in eight consumers ran price comparison tests on their smartphones while they were in a store.
Yes, word-of-mouth marketing is critical to increased sales. Just make sure you get the word to mobile users and social media. Only then will you be maximising your exposure.
Lewis Edward is a co-owner of The Office Providers, providers of office space, serviced offices and business centres.