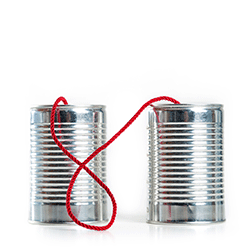 How do you talk to your customers? The choices are many - by email, by letter, on the phone, by text, via Twitter, Facebook or any number of social media sites - or even, shock horror - in person.
What works best for you? If you are like one in four British adults, you may avoid picking up the phone at all costs - preferring to text rather than actually speak to someone (Daisy Group survey).
Perhaps you prefer emailing. Or are you one of the 6% of people that have totally lost control of their inboxes? (research by Varonis).
If you like your communication informal and online, you may prefer building relationships on social media sites.
But enough about your needs - the real question is, how do your customers like be approached? Let's face it. You might be mad about Twitter but if your target market doesn't tweet, you need to find a way to reach them that works on their terms.
New research by Ofcom could help you to understand your target market a little better, thanks to its investigations into the different communication habits of British people.
It has highlighted five types, from the "always on" to the "detached". Now this may seem simplistic but if your marketing is totally excluding one or more of these groups, you could be missing out on a lot of business.
What it makes clear is that in a multi-channel world, everyone has their favourite ways to keep in touch - and no business can afford to take a one-size-fits-all approach.
Here are the five groups:
Always on (22% of adults)
The youngest group, with half (50%) aged under 35, they communicate a lot, especially with their friends and family.
They are almost twice as likely to use services such as Twitter (28%) than the national average (16%).
They are more likely to own a mobile phone and have access to a computer than average - they use new technology to keep in touch.
They use their mobile phones especially for texting (90%) and calls (88%) and are more comfortable about sharing information online.
Enlightened (19% of adults)
A young group, with 44% aged under 35, these enlightened communicators like to keep up to date with the latest technology.
They are more likely to say they are knowledgeable about the internet and are careful about sharing personal information online.
Enlightened communicators use text and email to keep in touch with friends and family, and around a third say their use of email has increased in the past two years.
Middle-of-the-road (22% of adults)
Generally aged 35-54, their levels of communication are much more in line with the general population.
Middle-of-the-road communicators tend to use a range of methods to keep in touch, with face-to-face (78%) their favourite.
They are most likely to be hesitant about sharing personal opinions on social media and will tend to let others try out new services first before they give them a go themselves (11% say they are the first to try new products and services compared to 21% overall).
Conventional (21% of adults)
The oldest group, with almost half (47%) aged over 65, conventional communicators tend to be retired and live on their own.
Conventional communicators are more likely to have a landline phone (81%), rather than a computer (39%) or mobile phone (73%).
Their top preferred methods of keeping in touch with friends and family are meeting face-to-face (75% compared to 67% nationally) or calling them on their home phone (16% compared to 10% nationally).
On special occasions such as birthdays, they are more likely to send their friends or family a card or present in the post (69%) than the overall population (58%).
Detached (16% of adults)
More likely to be men across a wide range of ages, communication isn't a priority for them.
They are least likely to choose to meet someone face-to-face, with only 42% saying it is their top preferred method of communicating with friends and family compared to 67% nationally.
They are more likely to use newer quick form text methods of communication, such as Twitter, than the overall population (19% v 16%).
Isn't it time you found out more about the communication preferences of your customers?
Rachel Miller is the editor of Marketing Donut.