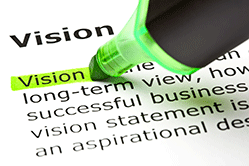 The vision you create for your business is one of the most powerful drivers of growth. Having a vision of what you want to achieve, and where you want to get to, is infectiously compelling — to your consumers, to your team and to any potential investors.
As a company founder or MD, your greatest challenge is not just defining your vision in a way that reflects your brand, but in ensuring that everyone on your team buys into it. Your team — be it managers, contractors or even the student who works part-time in-store — needs to have a passionate appreciation of what you are trying to achieve and how you are trying to achieve it.
Here are four ideas to help you define your vision and motivate your team:
1. Keep it simple and make it powerful
Making a vision easily understood is one thing but making it resonate with your audience is more complicated. The key is to avoid jargon and use words and phrases that anyone in your business can associate with. Perhaps the most famous example of this was back in the 1960s when Nike's vision simply said "Crush Adidas".  
The tone of that statement draws on the competitive nature of sport and the target audience. Its clarity of purpose couldn't be mistaken by anyone. Nike's vision was simple, do anything it takes to be bigger and better than its main rival.
2. Be ambitious, paint the future
The most customer-centric businesses will share their vision from the perspective of their customer, and there is no more compelling a way to do this than painting a picture of an ambitious future you want to create for your customers.
Henry Ford used this method — creating a vision that would have been impossible for any person to misinterpret — "I will build a motor car for the great multitude... When I'm through, everybody will be able to afford one, and everyone will have one. The horse will have disappeared from our highways, the automobile will be taken for granted."
3. Convey the passion
The way those at the top convey the business vision has a direct impact on how customers and staff respond to it. It's not surprising that many of the world's most successful companies have been led by founders who lived and breathed their business.
Steve Jobs once asked the chairman of Pepsi, "Do you want to spend your life selling sugar water or do you want to change the world?". Apple's own vision was certainly ambitious — "To make a contribution to the world by making tools for the mind that advances humankind."
4. Make it relevant
Bold and ambitious visions inspire teams but only when they understand the relevance to them. You must involve the team in order to encourage engagement with the business vision. Co-creation is one of the most powerful ways to do this.
A compelling brand vision, that is understood and believed by your team, is a competitive advantage. It becomes a growth driver for a business and it can make the vision self-fulfilling.
Christina Richardson is a business marketing specialist and founder of The Nurture Network, the on-demand marketing department for ambitious SMEs, which works with GrowthAccelerator to support high growth SMEs.