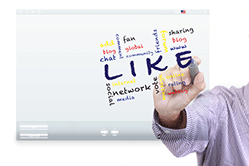 Whether you're tweeting, pinning, blogging or composing the perfect Facebook update, it's essential to make sure your social media copywriting is up to speed.
How to write a good tweet
If you're new to Twitter, you'll probably already be familiar with the most common problem — fitting everything you want to say into 140 characters. Writing short copy is a great discipline and a skill all of its own. Any online copywriting agency will tell you that whittling down an idea into a short, clear message is tougher than writing a long piece.
Make sure you're using the shortest and most straightforward words you can find, and strip out any unnecessary adjectives. Get right to the point, and keep each tweet centred on a single theme. Don't forget to add a link if you're talking about something people can read about elsewhere — especially if it's a link to your own site. Hashtags can help you connect to other people writing about the same things.
What makes a good Facebook update?
Facebook is probably the most widespread and best-known social platform. It gives you a bit more wiggle-room than Twitter in terms of word count, but it's still a good idea to keep your posts punchy and to-the-point, especially when you think about how many other people's messages yours will be competing with in any one user's news feed.
Facebook users love to chat, so invite comments by asking a question or posting a picture or video for people to share their reactions to. The more reactions your message gets, the more "newsworthy" Facebook will rate it, so that it appears in more of your users' news feeds.
It's also worth thinking about when your user base is most likely to be online, so you can schedule or post your updates at peak times. If you're in the UK for example, you might post at around 13:00 GMT to catch people on their lunch breaks at work, or at 20:00 when they're sitting down with their laptops after dinner.
Spreading the word on LinkedIn
Writing on LinkedIn is all about showcasing your strength as an opinion leader and curating content that shows your credibility within your industry.
Post hot news stories about your area of work, and make sure you preface them with a quick comment showing your own opinion on the subject. Asking a question in your update is also a good way to start conversations with like-minded people who might comment on your post.
LinkedIn is an ideal place to share news about your company, especially if you're hiring new people or expanding your business.
If you're looking for a new job or you're a freelancer, treat it as part of your job application or pitch process — keep the tone of your updates professional and keep an eye on your spelling, grammar and capitalisation.
Writing content that's shareable
Even if you're not actually writing on a social media platform, it's worth remembering that your content is likely to be shared across social channels. It might be via an automatic feed to your corporate Twitter and Facebook accounts or shares by interested readers who are posting your content to their own social streams.
Headlines are the key to shareable content. A strong, self-contained headline that gives a clear idea of what your article is about, and also gives the reader a good reason to click through and read it, is your goal. That's because on Twitter, the headline is all they're likely to see.
It might sound like a tall order, but there's a lot you can learn from an online copywriting agency like Sticky Content. The trick is to think like your users. What do people want to read? What are their motivations, pain-points and goals?
Charlotte Rivington is a freelance writer on social media and marketing.