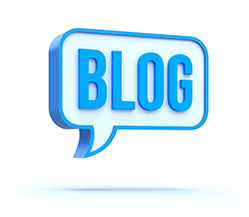 A business blog can be the ideal tool for you to optimise your business's online presence. By attracting readers to your blog you will in turn attract them to your business website and product offerings, thus increasing your brand awareness. It can be a great way to bring in new customers via informative and entertaining content.  Here's a break-down of how blogging can help market your business and attract new customers:
Search engine optimisation
First of all, having a blog affiliated with your website gives you lots of opportunity for SEO. Having an active blog does have a positive effect on your search engine ratings, and it also gives you the room to keep expanding your content. You can easily update your blog in a timely manner, incorporating new ideas, thoughts and keywords that people might be searching for.
Viral movement
Another key benefit that comes with having a blog is virality. Product pages or info pages on a company website rarely go viral, but a good blog post or a video posted on your blog has a lot more potential. For bigger exposure share your blog posts on Facebook and Twitter, and also consider adding them to social bookmarking sites like Reddit, Digg or StumbleUpon. The benefit of submitting a post to a social bookmarking site is that it instantly becomes available to all of its users, with a target on those with a proven affinity for your sector.
Keep them coming back
If you write posts on a regular and consistent basis then you will entice readers to keep coming back to your blog. A website alone doesn't always guarantee that customers will return to your site on regular basis, but a blog with new and interesting content will ensure that they return.
An opportunity to reach out
If a business website is more focused on the business itself, a business blog should be more focused on its readers and potential customers. A blog is a great method of reaching out and allowing customers to interact with your business. On your business blog you can cover a wide range of topics in more depth than than you might provide on your main website. You can also cover topics that are tangentially related to your business, but for which there might not be room to explore on your main site. Be sure to have a comment board where the readers of your blog can share their thoughts and opinions.
Show your expertise
Having a business blog gives you an opportunity to make yourself known as an industry expert. If you write regularly about the line of business you are involved with an authoritative voice, you will gain readers and credibility.
At the end of the day, while having a blog is a great commitment, even posting on a weekly basis is enough to bring you all the benefits. Set aside some time, or assign someone from your team to take control, and enjoy all the new business your blog will bring in!
Mary Johnson is writing on behalf of

Tothego

, an independent free classifieds website in the UK.