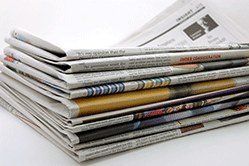 Securing media coverage is often at the very heart of a PR campaign. There is no doubt that it is a great way to drive awareness among new customers.
But the effort shouldn't end with the successful publication of coverage.
Having secured it, the smart business will share it, particularly among existing customers.
Why sharing media coverage makes good business sense
Firstly, it reinforces the business's credibility. Unlike an advert, a piece of editorial coverage has the endorsement of an independent journalist. It is trusted. Sharing it with customers can strengthen their perceptions of the business.
Secondly, it demonstrates that the business is newsworthy and professional. It inspires confidence.
It is also a great way of staying in touch with people. Updating customers with new snippets helps keep the business front of mind.
And it's not just in sales that media coverage can play an important role.
Virtually any VIP that a business wants to impress, is likely to be influenced by positive media coverage. It could be an industry association, or a partner organisation, or new staff that the business is trying to recruit. The list goes on.
How media coverage can be shared
For sales guys, media coverage can be worth its weight in gold. Showing it to existing or warm customers is powerful stuff. It makes their pitch much, much more believable.
Likewise, putting it on the website is a must. Not only will it impress visitors, it will help keep the website's content fresh, which search engines like.
Other areas to consider displaying it are: sales brochures, exhibition stands and office/reception areas. 
Giving a little thought as to how media coverage can be fully utilised, can reap big rewards. After all, if a business has worked hard to secure media coverage, it would be foolish not to make the most of it.
Peter O'Shea is the founder of POS Communications; for a free PR consultation, visit www.poscommunications.co.uk .
More guidance on PR:
• Why it pays to seek publicity
• A complete guide to writing an effective press release