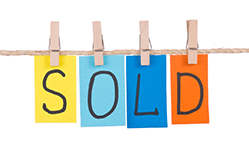 Selling has changed over the years although much remains as it always was. Many of the attitudes of a successful salesperson have remained consistent but to be successful, salespeople also need new types of behaviour, skill sets and knowledge.
A useful model is BASK (Behaviour, Attitude, Skills and Knowledge)— getting all four right is essential for successful selling. Attitudes tend to be constant within a person. And while we can choose our behaviours, they naturally align with attitudes. Meanwhile, both skills and knowledge can be learned.
There has been a big shift in recent times. Our customers are more discerning and knowledgeable than ever. Sometimes they may have picked up the wrong information, or only have partial knowledge but it's our job to use our knowledge and sensitivity so the customer doesn't feel they have it wrong.
Don't be pushy
We know that customers go through a buying process, no matter what they are purchasing. Salespeople have to guide customers rather than "push product" at them. Our approach needs to reflect that buying process rather than solely focus on a sales process. A successful sales process is structured and yet flexible and it helps the customer through their buying process.
It's all about finding "congruence" — the point where the offering meets the customer's needs and aspirations and the salesperson and the buyer are agreed on a course of action. And that is when the sale is made.
Understanding the personality of the customer is a vital part of the process. Some customers may find a particular approach patronising or even annoying.
Being congruent is not about imitating the customer, but it is about making our approach more acceptable to them and engaging with them more readily. Some may call this rapport — although we believe true rapport takes longer to form — but at its simplest, it is about establishing a connection with the customer.
Kieran Maloney is the founder/owner of sales consultancy KMC Associates and author (with Barrie Smith) of In Search of Congruence – and Success in Selling.