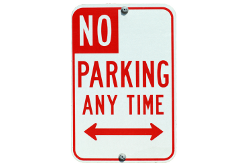 When you start out on your own in business, building your website will probably be one of the biggest initial expenses you will incur.
And launching the site is a milestone event, a momentous occasion for any small business owner. I know, I've done it myself and helped countless other small business owners achieve this.
But it's amazing just how many small (and even larger!) business owners I speak to who feel that a website should be done as cheaply as possible or see it as a one-off exercise — one more tick on the "must do" list. This is one of the biggest marketing mistakes you will ever make.
A website that is approached in this way will undoubtedly turn into a pretty parking lot that fails to deliver leads or generate sufficient sales for your business. Every business exists to make sales, so your website has to be a fundamental tool in your marketing toolkit.
No small business currently trading or even starting out in 2012 can afford to take such a blinkered approach to having an online presence. This doesn't just apply to e-tailers but to all businesses with an online presence — whether yours is a service or product business. If you have a website now, it needs to deliver!
Your most powerful marketing tool
As your website will be one of your largest investments, it's vital to get it right first time.
To make sure your website doesn't gather virtual online dust and to ensure it does generate the leads or sales your business deserves, take a look at my top three tips:
1. Start with your end goal in mind
You need to clearly define what actions you want your website visitor to take and build the content, navigation and engagement elements around this in order to aid conversions.
If you fail to do this, you will end up with a site that might look good but will probably never support your commercial objectives or contribute to your long-term business success.
Write down what you need your website visitors to do to start the relationship with your business and/or buy a product or service from you.
Map out clearly the steps in the process that will lead to a successful outcome for your business —this may be a warm lead or an actual sale.
Some web designers (not all I hasten to add, and most certainly not the lovely web associates I have selected to work with) can be a hindrance to achieving this. They are, after all, passionate about design and can often spend more time on the look of the website than they do on SEO and effective techniques to aid visitor conversion.
Or perhaps worse, they just get carried away with the latest whizz-bang fad in development — the past obsession with using Flash or snazzy animated landing pages springs to mind! These things often just annoy your website visitors and send them straight back to the search engine to look elsewhere.
2. Invest in your future success
Build the website you will need in three to five years' time now! You must understand the future requirements of your site. Nobody has a crystal ball but it is vital to consider your long-term business plan so you can choose the right technical platform.
Rarely do freebie templates and website creation sites deliver this requirement. Don't do it on the cheap using free templates and proprietary website creation sites that may not even be around in a few years' time (you then lose your most precious marketing asset). And don't get a friend to build static web pages that will limit your ability to update your website weekly and add valuable content as you develop your business. It really is a false economy.
I have met so many business owners who took this approach and within a few months, they realised they had a white elephant that was holding them back, forcing them to start again and incurring much more expense in the long run.
3. Get to know every website visitor, on every page
If somebody visits your website and leaves without progressing or converting, you have failed. It is such a waste — someone found your business, had a look around and walked out.
If you had a physical bricks and mortar shop would you ignore potential customers? Would you let them walk out without understanding how you could help them? So many websites replicate this offline experience so well!
It's a true recipe for online failure. Make sure you build analytics and data capture into your website on every page, so you understand visitors' behaviour and what content they do or don't interact with, and capture their details to enable you to start to build the relationship.
Think back to your goals and the map you created of the steps involved to convert a website visitor into an actual customer.
Sarah Orchard is an expert contributor to Marketing Donut and a consultant at Orchard Marketing Associates.