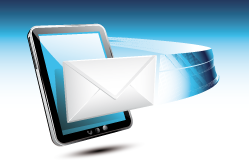 Over the past year, the marketing world has seen mobile become a key tool for marketers with the channel being further integrated with others, such as email. With this in mind, marketers must ensure that their email campaigns are formatted so they can be easily viewed on mobile devices, including smartphones and now tablets.
A recent review by Forrester found that only 4% of email campaigns broadcasted had a deliberate consideration as to how the email would render on a mobile device. Much more needs to be done with mobile in mind so that marketers aren't missing some fantastic opportunities. After all, many of us are now checking email more frequently by smartphone than ever before.
The opportunity to grow your mobile commerce by communicating directly with recipients who are more likely to make a purchase can't be ignored. The majority of smartphone users are younger and more trend-conscious, making them key targets to take advantage of m-commerce. In December 2011, it has been estimated that £1.64billion was spent via mobile devices alone, which according to Forrester will grow to 7% of all ecommerce by 2016.
The key to creating relevant mobile experiences for your recipients is quite simple. By following best practice advice you can optimise your messages for smartphones:
Create text only versions of your emails and provide a link to a web page within the email header.
 Decrease email file size to less than 100kb so emails will display quickly on mobile devices.
Fit content to mobile screens — this is different to reducing the file size. To do this you can either design messages with the appropriate pixel width requirement or by using cascading style sheets (CSS) where multiple HTML styles are created so content can automatically adjust to different mobile device display sizes.
Shorten subject lines — mobiles truncate long subject lines, so be sure to get your point across quickly in around 30 characters.
Use mobile-friendly calls to action — unlike the above points, which adapt your existing emails to look good on mobile devices, marketers can also tap in to the immediacy of mobile use with specific campaigns for recipients. For example, retailers have seen success with deal-of-the-day email offers and mobile specific calls to action such as click to call and download app.
Add finger space around links — the average adult finger is 45 pixels wide so allow 10-15 pixels more for finger-clicking space to avoid people tapping on the wrong link.
Link to mobile-optimised or specific landing pages — traditional web pages are often to cluttered and slow to load for smartphones. You are able to streamline content for needs, for example directions to stores and one click purchases for your registered users.
Using these steps will immediately improve the relevance of your email campaigns but to leverage long-term opportunities and benefits of m-commerce and mobile marketing, you should also be analysing your customer lifecycles to determine when to send your broadcasts to influence key touch points. This will instigate the desired action and behaviour at these crucial decision points.
This post originally appeared on the DMA UK Email Marketing Council blog. Simon Bowker is UK managing director at eCircle.