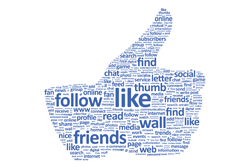 Having a presence on Facebook, Twitter or Linkedin is unlikely to result in immediate sales.  What social media does allow you to do is promote your brand to an audience who is interested in hearing from you. 
Engaging with your customers is not going to be easy and it certainly won't happen overnight.  But if you put in an hour a day and approach it correctly you will be rewarded with subscribers, friends, or followers who understand who your company is, what it does and potentially why they should engage with it — hopefully leading to them becoming brand advocates.
A survey from the Chartered Institute of Marketing has revealed:  34% of 1,500 marketers questioned said that their social media activity in 2011 was "not at all effective", while only 13% said it was "extremely effective". However, small business owners should take note that the majority of those polled saw it as a tool of engagement (37%), or as support to other channels in a campaign (46%).

Whilst every company can benefit from some form of social media, not every form of social media will fit your company. It is therefore important to choose the platform where your audience is, not the platform that may get the most press. 
Facebook
Facebook is undoubtedly the king of social media. With the average user spending over 15 minutes generally surveying their Facebook terrain, you would think it was the perfect tool for smaller companies to engage with their target audience. Yet a quick look and you'll find countless business pages with 50 likes and fewer comments. Sarah Orchard, from Orchard Marketing Associates, makes the point that:
"Facebook is a social space, so users are not as receptive to business-orientated messages. The question you have to ask yourself is: "is my business one that can tap into the emotional side of people's lives?"
If your business fits this criteria then really try to make your Facebook page an interactive and worthwhile experience for the user. If you put on a quiz night in the local pub, for example, get attendees to sign up to join your Facebook page as they leave. Then, use your page as a hub for anything interesting related to your event to create publicity.
Croatian-based music festival Outlook is only five years old and it already has 54,000 likes on its Facebook page. Outlook uses Facebook as a marketing tool hosting DJ competitions, posting reviews of artists scheduled to play and uploading videos from last year to create a buzz around the event.
Linkedin
With its focus on business networking, Linkedin is a great tool to keep in touch with former colleagues and find new prospects. The Q&A function allows you to highlight what your company does and how it does it, as well as gaining useful advice to better run your business. Being a member on Linkedin also allows you to start, join and participate in group discussions. If you provide unique insight on a given topic on a consistent basis you will become an authority on your area of interest — you can even become a Linkedin designated expert. A potential client may be looking for information on your area of expertise, stumble across a post of yours that really connects with them and contact you as a result.
Pinterest
The site allows users to post images of your company's product and link them back to your website. It acts as an online catalogue, except that images can be (much like Facebook) commented on and "re-pinned" to other user's boards. It may be relatively new — the site was launched in 2010 — but Pinterest is already being touted as the most valuable marketing tool for smaller businesses on the web. There are already seven million registered members. The major drawback of the site is that if your company's product or services are not particularly visual, you may struggle to get across what you offer.  On the other hand, it gives you a chance to be more creative, using evocative images that intrigue other users into finding out more about your company.  Here are 15 of the most popular pictures on Pinterest.
Twitter
Twitter is a great way to keep people interested in your business or project and remind them of what you are doing. Your followers will be able to see your tweets on their Twitter feed.   The great thing about this is that they do not have to consciously go to your page for you to get your message across to them and already have chosen to be receptive to your messages by actively following you. With clear and informative tweets you have the power to reach your client base and build up a picture of exactly what your company does, which creates brand exposure.
Business blogs
Business blogs are a no-frills way of sharing your company's expertise and knowledge with a wider audience. The software is incredibly easy to use (e.g. WordPress, Blogware etc.) and cheap (and in most cases free) to run, meaning you don't have to learn HTML or spend huge amounts on a web designer. If you post interesting content, people will return to your blog, retweet it or share it on Facebook.  A great example of a blog giving real value to the business is Stony Field Farms (Organic Dairy Products). 
Mark Mylam is a sponsorship executive at Slingshot Sponsorship.