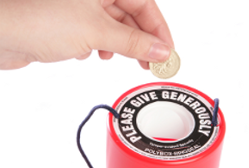 I came across a breakdown of Virgin Atlantic's marketing department this week. I was astounded by the fact that it had 12 different areas including sponsorship, research and database marketing. I thought it was a great illustration of the range of marketing functions businesses need to consider. I put the fact that I'd never seen anything like it down to a career in third sector marketing, but then I wondered if I was doing a disservice to charities, social enterprises, and their third sector counterparts such as community interest companies and voluntary organisations. After all, lots of for-profit businesses may also be astounded at the complexity of Virgin Atlantic's marketing department.
Third sector organisations are rarely mentioned in the business pages; however, there are more similarities between third sector and for-profit businesses than one might assume. One of these is locality of marketplace: social enterprises and charities deliver products and services to local, national and international customers — like any business.
Another similarity is the range in size of organisation; there are many small third sector organisations that reflect SMEs in number of employees and potentially in a task rather than a role-based approach. There are also many larger charities and social enterprises that operate like big corporations and have a turnover to match.  Take Oxfam for instance, whose 2010/11 income was £367.5m, or Divine Chocolate, the cooperative that has gone from strength to strength in the past 15 years and whose turnover in 2009/10 was just under £10.5m.
Understanding the third sector
The term "third sector' has gone out of fashion in this current government's administration but it's a useful one for our purposes because it serves as an umbrella term for a broad spectrum of organisations. Some of these, such as social enterprises, are structured and function as businesses. Others, charities in particular, are clearly not businesses because the rules on public benefit in the Charities Act and an organisation's charitable objects prohibit this.
Any debate around the degree to which third sector organisations are businesses is a red herring. The point is that all third sector organisations perform business functions, including marketing, and require support to overcome the challenges they face from their operating environments. For instance, it is notoriously difficult for third sector organisations to allocate a marketing budget particularly when they are commissioned to deliver public services since this is not seen as a good use of public money.
Another challenge is the need to embrace social media while being aware of good practice around digital inclusion. This means developing communications strategies that cater for communities that are not online. Failure to do this means they risk the wrath of the very people they are accountable to.
Social enterprises appear to be becoming more at ease with the idea of marketing. This may be because they use business principles to achieve their social mission. In contrast, many charities find the idea of marketing an anathema; it implies commercialism and profit-making which go against a charitable philosophy. Many of those that adopt a marketing approach retrospectively encounter difficulties managing this change across a staff team with varied and entrenched views.
Marketing in the not-for-profit sector
A recent piece of research we've conducted into charity communications reflects the uneasy relationship charities have with marketing. Out of 20 voluntary organisations interviewed, only two had marketing officers. Only two organisations spoke strategically about marketing communications and only two were making full use of social media. It seems that, despite the adoption of specific marketing tactics, marketing is still a dirty word for some charities.
Marketing matters to third sector organisations because it offers a practical approach to business that echoes a core third sector ethos — to meet consumers' needs.  We believe there are three marketing challenges for charities and social enterprises:
To develop a comprehensive understanding of marketing
To challenge assumptions that marketing is incompatible with non-profit making activity
To maximise limited resources (budgets and staffing)
This isn't about breaking moulds but it is about strong leadership and having a good grasp of the potential of a marketing approach for third sector organisations.
Charities and social enterprises don't need Virgin Atlantic's marketing department in order to be effective, but Virgin Atlantic offers a useful starting point for rethinking the place of marketing in organisations whose mission is to bring about positive social change.
Sian McClure is the co-founder of Dynamic Marketing, a specialist marketing service for social enterprises, charities, community interest companies and socially responsible businesses.