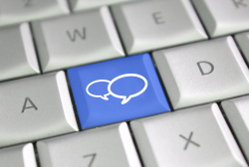 Social commerce is something often discussed as a natural progression of two successful market arenas — social networking and e-commerce. But with the current forays into s-commerce amounting to little more than adding a Like button or setting up a Twitter feed, the evidence suggests that it's not yet exceeding the sum of its parts.
The idea of social commerce, or s-commerce, is not necessarily a new one. Consumers have been shopping and having conversations for centuries but only recently have these trends become possible digitally, and only recently have retailers and brands begun to take notice. However, current attempts at using social media to generate loyalty and sales have not offered truly social experiences and have too often led to consumers being pushed onto external sites to interact. Shouldn't retailers do more to keep their customers on their own websites?  
Giving customers a voice
The growth and popularity of social networking has shown that, when given the right tools, people like to, and do, interact with each other. However, most retailers are not implementing the tools that could see their brands becoming successfully social and engaging with their consumer base. For example, by making reviews and opinions an integral part of the online shopping experience, consumers could be as social online as they are in real life. That is, they could connect online with shoppers of similar tastes in order to influence and be influenced. Brands must put customers first and content second, and stop directing them to other social networks. If customers have a voice, brands must allow it to be heard. 
Keeping it private
Some brands worry about intruding on their customers' privacy when trying to be more social. While it is important to allow customers to opt in or out, many are happy to share their views and help other consumers make purchasing decisions. Once opinions are shared in public, it is up to the brand to decide how to use them. If they can be harnessed to give the customer relevant and timely recommendations or information, the customer is more likely to have a positive experience. Brands can leave it up to the user to decide what they want to share and when, and information they choose to disclose can be used to provide a more useful social experience.
On-site engagement
Unfortunately, many businesses are still struggling when it comes to s-commerce, pushing customers to external sites like Facebook, rather than engaging consumers socially on their own site.  The result is that consumer interaction with the brand becomes diluted and the brand fails to generate customer loyalty. This could ultimately lead to retailers losing ground in the decision-making real estate that social commerce offers.
If done correctly however, s-commerce can be a profitable way to build brand trust and shopping confidence.  S-commerce provides the perfect opportunity for businesses to communicate directly with their customers, person to person, brand to fan.
Anton Gething is the co-founder and product director of nToklo.
Read more in our section on social media, which has everything from beginners' guides to in-depth advice.