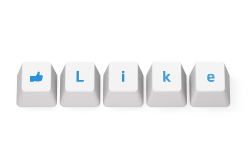 I was recently listening to an interesting talk by Dave Wieneke where he looked at the way brands need to change how they engage with consumers. One of the nuggets he shared concerned the relative importance of company Facebook page visits against their main website visits.
So I dug into the original data — 2011 research from Webtrends and Adgregate (PDF) and it tells a very interesting story that I thought was worth summarising.
For many companies now, particularly those with non-transactional sites, visitor figures are in decline, while their Facebook visitors are growing. This prompts important questions of how serious companies are about creating a strategy to engage their audiences through Facebook and whether they are allocating the right level of resources between website management and Facebook — either too much or too little.
It also suggests questions should be asked about the balance of media investments; whether they should be used to route visitors to the website as traditionally, or to Facebook and other social presences.
And this is an issue for small firms as well as bigger businesses. This is the story this research tells:
1. Visits to the majority of corporate websites are in decline
Looking at the year-on-year change in visits to Fortune 100 sites to 2010, the majority are declining, although of course there are similar levels of growth in others.
2. Growth in Facebook (and other social presences) occurs at the expense of corporate sites
In many cases while corporate sites are declining in their level of unique visitors, Facebook visits are increasing. When it comes to non-ecommerce sites, this trend can be seen in many corporates including Boeing and P&G. Others, including PepsiCo, buck the trend. Of course, this study looks at Facebook only. Traditional website audiences are also visiting YouTube, Twitter and LinkedIn.
3. For some brands Facebook dominates
You'll know this, but this graphic makes the point forcefully: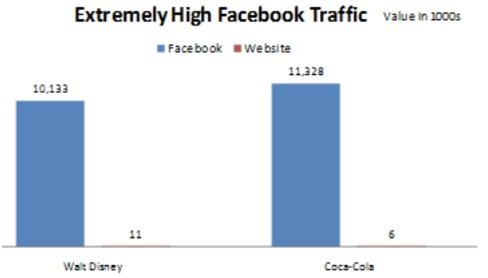 In these cases, the dominance of Facebook is likely due to a deliberate strategy to focus investment and marketing resource into Facebook.
This form of analysis is a useful benchmarking analysis to perform for any company sector and for firms of all sizes. You can review your own company's growth in social media against changes in your traditional website using the many free tools available for benchmarking visitor traffic and social presences.
The results could change the way your business interacts with its customers and they may well shift focus towards social media sites like Facebook.
Dave Chaffey is an expert contributor to Marketing Donut and is the editor of the Smart Insights digital marketing blog.