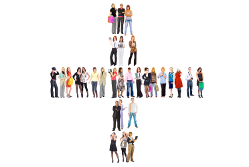 Last month, Google launched the first of the brand pages on Google+. Some of the early adopter brands to have pages include Cadburys, H&M, Pepsi and The New York Times to name but a few. And it's not just big businesses that are building Google+ pages.
One of the key benefits to Google+ is that "circles" gives the user more control; they can decide how they share content and who they share it with. The brand pages will work in the same way facilitating a relationship between fans, advocates and potential customers.
Brands can decide how to interact with their fans. Users can be split into circles that target geographic locations, age groups, gender or a combination of all of these. This will allow for tailored messaging. However, the brand's connectivity will be more limited than an individual's page. An individual must add the brand page to a circle, and the brand cannot initiate the link and so this puts the user in control of the relationship.
The pages themselves will allow the brands to share content with certain groups, make content unsharable when necessary, post text, photos, videos and links, there can also be live video hangouts. Maps can be utilised for local businesses. Affiliated companies and people can be acknowledged on the page, and users can interact with them separately.
The impact of social media on SEO has become increasingly important in recent years and it's apparent that content (be it a product, a status update or anything in between) with a +1 can appear considerably higher in the search results than those without.
Consequently, it is now more important than ever that brands become early adopters and have a useful, comprehensive Google+ page in line with their digital or social media strategy. Google+ won't replace existing social media platforms — Twitter and Facebook are here to stay — but it's a further platform to engage consumers and improve SERP visibility.
Lucy Ingram is a senior SEO account executive at Minute Steak, the digital and search marketing agency aimed at SMEs.