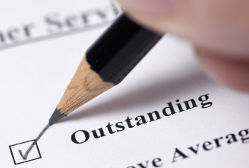 Barely a day goes by without someone talking about the importance of gathering customer feedback. By learning what your customers think of the service you provide, it's much easier to find out where you're going wrong and what you're doing right.
But even more important than gathering this feedback is what you actually do with it, and what your customers expect you to do. Do you view it once then file it away in a dusty cupboard? Do you put it in an envelope marked "Top Secret" and send it to the management team? Or do you have a slick system in place to deal with every piece of feedback and tell the customer what you've done? (Now that would be impressive).
There are some valuable things you can do to improve your customer service using feedback.
Spread the word
If customer service truly is a thing of value, then why are we hiding it away from those that would get most use out of it — your staff? If everyone in the company can see in the customers' own words what they like and dislike about dealing with you then everyone has the chance to continuously improve.
Take action
Now that you know what your customers like and dislike about your service, take a look at the problem areas and see how you can fix them. The more problems you fix, the happier your customers will be; and since happier customers are likely to stay loyal, spend more, and recommend you to others, your business will be more successful!
And while you're at it, consider rewarding those members of staff who your customers believe went above and beyond what was required of them to provide tip-top customer service.
Keep it safe
Customer comments need to be stored and organised in order to get maximum value from them. Keep it all in one place so that it can be found and referred to easily. Organising it into topics or actions can also help you understand the impact of a particular issue by looking at the number of people who have fed-back on it; it also makes it easier to see what action needs to be taken.
Measure the impact
Customers are individuals and you should treat them as such, however reporting and analytics can give you a quick snapshot of how the company is faring according to your customers. It might be useful to analyse the proportion of your customers that would score you 10/10, what are the most costly causes of problems, and how quickly people are responding to the issues raised by customers.
Use it to communicate changes
Your customers have just given you something of great value, why not reciprocate? Thank them for their feedback and tell them what action will be (or has been) taken as a result. Keep them up to date on any changes or improvements made and encourage them to give their opinion on new ideas and developments the company is working on.
Kerry Morrow is marketing executive at Customer Sure which offers customer service software, including a free 30-day trial.