It's been a great week: fun, exciting and we've had the best traffic figures ever on the Marketing Donut. The most popular single item of the week was our case study of the online cupcake community, How we got together online to boost our cupcake business.This produced a fantastic response within the world of cupcake makers, who spent the whole week sharing the article and spreading the word about the Marketing Donut. I'd like one of these, thanks guys: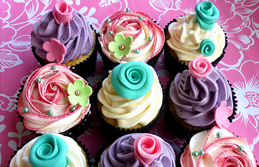 But probably our biggest draw overall this week was our extensive Budget coverage on Wednesday – and this is what made it such a busy and exciting week. I blogged live as the Chancellor read his speech, the team tweeted like crazy and we published a Budget round-up and the reaction from small businesses before the end of the day.
We were really pleased to be the only news organisation to spot the National Minimum Wage increase on Budget day itself. This wasn't in the Chancellor's speech, but buried deeply in the Budget Notes where it was spotted by one of our eagle-eyed editors. We called the Treasury, checked it out and slipped it into our coverage minutes before publication. Result.
The Budget also produced my favourite thing on the Marketing Donut this week – our James's rapid response analysis of the Budget in words and pictures. Take a look; it made me smile.
Post-Budget, it was an early start on Thursday morning for a trip to our Bristol office where I delivered an editorial training and went to the Bristol Twestival in the evening. This fundraising networking event was kind of a who's who on the Internet in Bristol, which is a real new media hub. It got a bit raucous and raised in the region of £4,000 for Concern Worldwide, who are no doubt very happy indeed. Good stuff.
Now it's back to earth and the business of providing good marketing information to small businesses. We'll be updating our favourite things with more books, videos and websites you should be reading, watching and visiting, Plus, we'll have information on mobile phone apps, advice on closing a sale and tips for making your business stand out from the crowd.