Cupcakes are hugely popular and to satisfy the nation's appetite lots of new businesses are baking, decorating and supplying them to local cafés and shops. Now two cake-making social networking groups have sprung up to help small bakers market their wares more widely. James Ainsworth reports
Many commentators cite the TV series Sex and the City as the catalyst for a growth in the cupcake industry in the US, UK and elsewhere. And like many niche industries, the world of cupcakes has developed its own online communities where sellers can share knowledge. 
One such group, Cake Biz UK, can be found on the Flickr image-based network. Supported by Flickr's ability to host and organise images and related discussions, the groups perform two functions: Cake Biz UK limits itself to discussion of business issues; Cakes UK Style is the place for cake-makers to share technical cake craft information.
The two groups host everything cake-related, from queries about whether ganache can be made with white chocolate to the now legendary 'Pricing Bingo' thread where images of cakes are shown and members guess what price it should and actually did sell for. A lesson in pricing has been learned by many through a spot of community-sourced fun and sharing.
Meet the administrators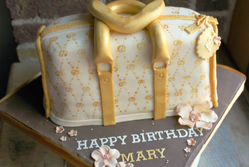 The groups were set up by Karen Labett of Tasty Little Cakes and Svarna Singh. "Many of us were asking the same questions, but there was no UK website offering what we needed. So, we decided to start our own support group," remembers Karen.
Svarna explains why they chose Flickr to host their group. "The ability to share hi-resolution images with anyone is made very easy by Flickr," she says. "The ability to create a group brings together people who share the same interests. Furthermore, the discussion boards have allowed it to become so much more than a photo-sharing website."
Karen adds: "Overall, these facilities are easy to use, easy to access and affordable — it doesn't get more affordable than free! That is what makes it a great platform for the Cake Biz UK group. Images not only provide group inspiration, but also can be used as examples for business-related queries."
The administrators screen all requests to join the group to ensure that a member will add value and that they are a genuine cake-maker.
The group has grown organically since it started in 2009 and now has more than 400 members. "I don't think the goal is to reach a certain number by a certain time," says Svarna. "It exists purely to benefit those who are looking for business advice on their cake business."
Meet the members
Jen Cooper of Jen's Cakery
"I honestly don't think I would have left my previous job as a chemical engineer and set up my business had it not been for the various cake groups on Flickr. I was already in business when I joined Cake Biz UK, but it has been invaluable. It's pretty much the only group I check every day!
"Flumpette's 'Pricing Bingo' thread was the greatest business analysis tool ever, dressed up as a bit of fun. It made me realise that I was underpricing my cakes — and I wasn't the only one.
"I would absolutely recommend other businesses have groups like ours. It's cheaper than therapy, and the wealth of advice is just amazing. I'm sure it's good for business, too. If I'm unable to take an order, frequently I pass on the details of nearby Cake Biz UK contributors."
Cat Beurnier of Sugar Daze
"For a long time, I was baking in isolation. There are very few bakers in France who do English-style baked items such as layer cakes, cupcakes, and so on, and most of them are French. I'm learning a lot about the business through trial and error.
"The model that has been created here is wonderful. The discussions are easy to follow and topics are easy to search. I like the element of having to join the group, which means that I can discuss things in close to privacy, meaning the questions or statements I make here are not going to turn up in a Google search.
"I would highly recommend seeking out a group like this for anyone in any industry anywhere."
There is great support available in niche networks. If you can't find one on your platform of choice, Flickr, LinkedIn, Facebook or Ning, why not start one yourself and leverage your contacts of retailers, suppliers and fellow businesses to get the community going?
More on this topic: