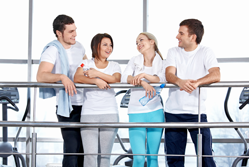 Social networking sites like Facebook allow businesses to engage with their customers. Take a local gym for example. With the right approach on a site like Facebook, a gym can transform its members into a thriving community, as Wayne Smallman of Octane reveals
When I walk into my gym, scattered on the reception counter is a collection of flyers and pamphlets promoting their various events. They're on cork boards, stuck to walls, they're announced over the speaker system, displayed on the flat TV screens in the gym, the changing rooms and the bar area — they're promoting events everywhere throughout the gym.
Brilliant, eh? Well, nearly. To some extent, the strength of the message is being lost on those that are head-down busy like me; you've either got time or you haven't. Promoting internally will have results, but people are increasingly becoming "ad blind". What's needed is an elective process, one that people subscribe to.
Right now, my gym has all these members, most of which provided their email addresses when they joined. This being a private gym, membership isn't exactly cheap — but the service and the facilities are excellent, I hasten to add! I reckon their demographic has a healthy bulge in the 30-35 year old area. So it's very likely that many of their members are on Facebook.
Running a page on Facebook
So let's say my gym got themselves a page on Facebook. What next?
They'd need do a mail merge and ping out emails to all of their members with an announcement for their page, with a list of features and benefits. The gym looks pro-active and scores points for being in the face of their members.
Next up, they start a structured campaign of posting links to relevant content and internal promotions, such as:
   dietary planning
   local sporting events (football, rugby etc)
   competitions / give-aways
   up-coming social events
   healthy eating ideas and recipes
   family events and kids sports days
Thanks to Facebook, they can offer some sound advice to their members for almost zero cost. It just takes some time and they've usually got three or four people at reception that could easily take on this task.
This is valuable know-how and advice, with experts on hand (the gym staff) to field questions, book one-to-one sessions and persuade people to join classes.
In subtle but measurable ways, the perception of the gym shifts from being just a company to becoming a brand — and from a gym to a place to meet people and build on your social life. The members now value what the gym represents and begin to talk to each other.
Pages on Facebook include the option to add "Discussions", which are forums for people to discuss different topics. From personal experience, these either work or they don't. There's fantastic potential for these to work on a Facebook page for a business like a gym. The gym could post on a wide range of topics (protein supplements, types of pre- and post work-out stretches, effects of alcohol, and so on) and get people talking, asking questions and engaging with their members.
Building an online community
When a special event comes up, they can create an event for their page, which then shows up on members' front pages. The members get more information and they can then respond saying whether or not they are going to attend.
Over time, the gym can better gauge uptake for an event (what works, what doesn't, when and why) and get an idea of how many are likely to come. What's more, since people can share events with friends, they could invite someone as a guest, who might just turn into a member later on.
The events go down a storm, as they usually do. The members and staff who were there took loads of photos and recorded the odd video of dads dancing and, over the course of the following week, they post the photos and videos on the page, tagging staff and other members.
And the result? People visit the page, laugh, share comments, reminisce, strike up friendships and start conversations.
Before long, members are organising nights out, inviting fellow members and friends to come on fun runs, enter competitions, go on hiking trips, the list goes on. We're no longer just members, nor are we just friends — we're now a community.
Written by Wayne Smallman of Octane.
More on this topic: