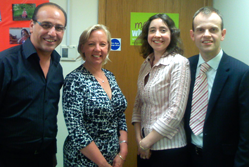 It started with a portable whiteboard on a roll and now Magic Whiteboard has launched a raft of new products including a roll of blackout blind material and reusable Sticky Notes. Rachel Miller discovers how the company has become one of the Dragons' most successful investments
The company may be called Magic Whiteboard, but its success is no trick – it's down to innovation and sheer graft, not to mention the support of two well-respected Dragons – Theo Paphitis and Deborah Meaden.
"We went on Dragon's Den in 2008 because we wanted to show people how our product works," says Neil Westwood, managing director of Magic Whiteboard. That approach certainly paid off as Deborah Meaden and Theo Paphitis invested £100,000 in the business. And being able to market themselves with the line "as seen on Dragon's Den" has certainly helped.
Fast-forward to now, and Neil says that Magic Whiteboard is one of Theo's best investments "by a long shot".
The company's core product is Magic Whiteboards. "It is a replacement for a flipchart. You can tear it off and put it on the wall — it sticks to any flat surface — and you can use it as a whiteboard, writing on it, erasing and reusing it," explains Neil.
With Theo Paphitis on board, it's not surprising that the product is sold in Rymans. However, it is also available in many other retail outlets including Staples and Viking. Now Neil and his wife Laura are talking to retailers in the States about distributing their innovative products there.
The company has also launched Magic Blackout Blinds based on the same technology. "It's a sheet on the window that parents can use to stop their kids waking up so early," says Neil.
Neil and Laura have sold thousands of blackout blinds via their website and the product is being sold in catalogues such as Jo Jo Maman Bebe and the Great Little Trading Company.
But while these products are still the "cash cows" of the business, says Neil, he and Laura have introduced new products and extensions to the brand that are really taking off. These include A4 Magic Whiteboard sheets and reusable magic Sticky Notes.
"The A4 sheets, for instance, allow people to buy our product for just under £10, says Neil. "What we are finding is that people are trying our product at the lower price and then going on to buy the larger roll of Magic Whiteboard. So it has been good for sales."
But that's not all. They have also developed a Magic Drawing Pad app for the iPhone and the iPad. It's a clever extension of their core product that has already achieved over 50,000 downloads.
Seeing is believing
Because the Magic products have a "wow" factor when they are demonstrated, exhibitions have been at the heart of the company's marketing strategy. "It's a very good way of interacting with our customers. As soon as people see it, there is the wow factor and it's sold then and there. So demonstrating and exhibitions are very important," says Neil.
Neil has recently been exhibiting side-by-side with Rymans, sharing a stand at the recent Law London event. "We're there to attract people onto the stand with our demonstrations," he says. "It's a good pairing."
There are a number of key markets that Magic Whiteboard is targeting. Clearly the blackout blinds are aimed squarely at parents, so consumer events like the NEC Baby Show provide a good platform to demonstrate the product. Meanwhile, training and office supplies exhibitions are best place to show off what the Magic Whiteboard technology can do.
A relatively new market for the company is schools. "There are 26,000 primary schools in the UK," says Neil. "We're finding that schools install Magic Whiteboards in one classroom to test them out. They can create a working space really fast without any hassle. We usually find that schools then order Magic Whiteboards for all of their classrooms."
Marketing lessons learned
Neil has learned a lot about marketing over the past four years. "We have learned that PR is more effective than advertising," he says. "We had 50 words in Good Housekeeping's Tried and Tested section and sold thousands of rolls of black-out blinds as a result. Lots of grandparents read the magazine and they bought it for their grandchildren."
He has also learned that spending a lot on marketing does not always deliver results. But he's not short of creative ideas to help spread the word. Those ideas include everything from advertising on sandwich bags in London's Canary Wharf to sponsoring a play, Pitch Perfect, set in a design agency. Magic Whiteboards featured prominently on-stage.
Neil has even designed a super hero to represent the brand and uses an eight-foot cut out to attract visitors to the Magic Whiteboard stand at exhibitions. "It helps to start conversations," he says. "The cut-out only cost £100. You don't have to spend a lot of money to get noticed."
So what are the secrets of their success? "It's all about lean thinking, we don't waste resources. Our model is low cost. We haven't wasted money but we have spent money building up the brand."
The Westwoods certainly did well to get the investment from the two Dragons but it's quite clear that when Theo and Deborah said "We're in" back in 2008, they too made a very smart decision.