December 06, 2013
Small Business Saturday gets widespread backing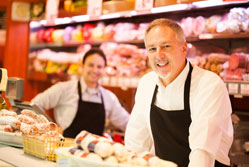 The first UK Small Business Saturday takes place on Saturday 7 December, on what is usually the busiest shopping day of the year.
Small firms and independent retailers across the UK are hoping the event will have the same impact that it has had in the USA, where Small Business Saturday in 2012 generated £3.5bn worth of sales and long-term custom.
The event has cross-party backing nationally as well as the support of local councils and many small business organisations. So far, 40 local councils have answered the call from the Forum of Private Business (FPB) to offer free parking on the day.
Phil Orford, FPB chief executive, said: "It is fantastic to see so many local authorities supporting their small firms in this way. As the cost of doing business continues to rise it is more important than ever to support our small businesses. The 40 councils that have agreed to offer free parking are an example of the excellent work local authorities can do to support small businesses."
The Federation of Small Businesses (FSB) is also urging customers to support their high streets and city centres this Saturday. John Allan, FSB national chairman, said: "The day will shine a spotlight on the fantastic range of independent small businesses in the UK. Whilst small firms need support 365 days a year, this day is a welcome boost for many and will introduce the public to a business they may well go on to support in the future."
Julio Vildosola, CEO of Liquid Finance, said: "The inaugural Small Business Saturday is a significant step for the UK in promoting, supporting and developing small business. We can learn a lot from the US where there is a culture of entrepreneurialism, where advice, information and funding is readily available."
However, the event has also highlighted the ongoing need for support for the small business sector. Clive Lewis, head of enterprise at the Institute of Chartered Accountants in England and Wales (ICAEW), said: "Government needs to build on their efforts to back small businesses, tap into their entrepreneurial spirit and guarantee their growth."
For more information, visit the Small Business Saturday website.
Related resources: