October 25, 2013
Richard Branson unveils Virgin StartUp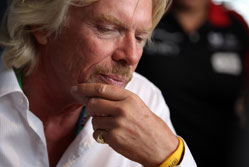 Sir Richard Branson has announced the launch of Virgin StartUp, a not-for-profit company offering financial support, mentoring and advice to young entrepreneurs across the UK.
Working with The Start-Up Loans Company as a delivery partner, Virgin StartUp will provide loans to entrepreneurs between the ages of 18 and 30. The new initiative is a collaboration between Virgin, the Cavendish Consortium (made up of six of the largest enterprise agencies across England) and the National Enterprise Network.
In addition, Virgin StartUp has the support of all Virgin's UK companies and they will provide access to staff mentors, marketing and media support, business advice and space to host events.
Sir Richard Branson said: "I started my first business with a handful of coins out of a phone-box at school, but it was the £300 from my mum that really kick-started our Student magazine and sparked the Virgin adventure forty years ago. Today, young people need that same help and I believe Virgin StartUp will provide it – with access to early capital, strong mentorship, advice and promotion."
Virgin StartUp follows a successful pilot programme in the North East involving Virgin Money. This initiative, launched in October 2012, is a consortium between Virgin Money, Virgin Unite, the Northern Rock Foundation and Project North East. In the past 11 months, it has backed more than 100 businesses and lent £600,000 in funding.
Commenting on the launch, Doug Richard, founder of School for Startups, said: "It's great that Virgin are helping to support the next generation of Richard Bransons, a man who has done more to transform the image of entrepreneurship in the UK than anyone else. But it's critical that they provide more than mentoring and freebies. All the evidence shows that they need training and support. At the end of the day being associated with the Virgin brand will just be for a few lucky case studies."
To find out more about Virgin StartUp and to apply, visit www.virginstartup.org.
Related resources: